District Plan review
What is a District Plan?

It's the community's key document for managing the way people use their land. There are objectives and policies that set out what we want the district to look like and how we will balance landuse issues when they are in conflict. Rules in the plan set out what activities you can do as of right (permitted activities) and what activities we need to look at more carefully through a resource consent application. These rules cover things like how land can be subdivided, the height and location of buildings, where commercial and industrial activities can go, protection of heritage sites and management of noise.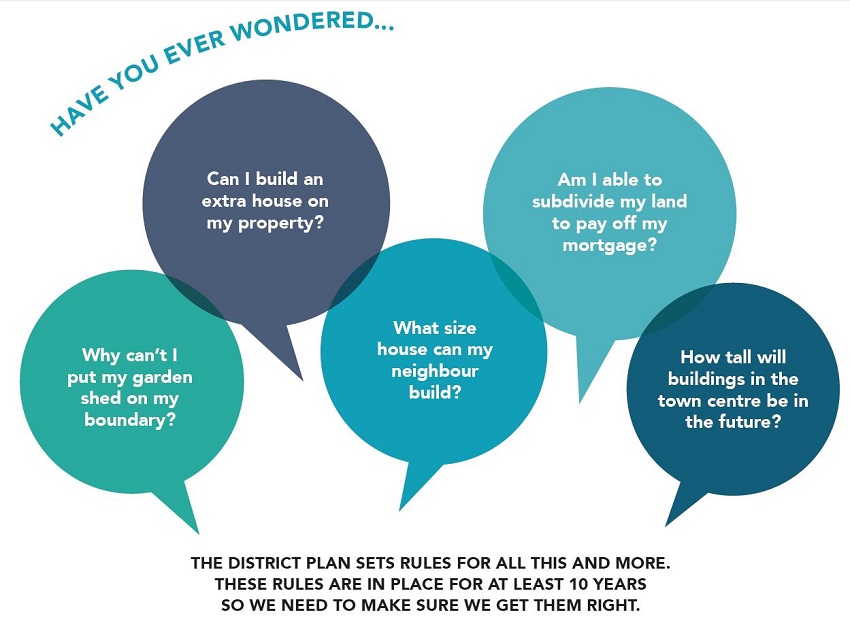 What are we looking at as part of the District Plan review?

When we started the District Plan Review we had intended to review the entire District Plan, as much of the plan is now 10 years old or older. However, at the moment there is a lot of uncertainty about what our future planning framework will look like. The Government is currently reforming the Resource Management Act 1991 into the Natural and Build Environment Act (NBEA).
Rather than spending a lot of time and money reviewing the entire District Plan, which would likely change under the NBEA, we have decided to focus on the parts of the plan that are causing issues. By tidying up these parts of the plan, we will be ensuring that it is operating as efficiently as possible while we transition to a new planning system sometime in the future.
What parts of the plan will change as part of the review?
The parts of the plan that we think need to be reviewed include:
Significant Resource Management Issues
Residential objectives, policies and rules
Rural residential objectives, policies and rules
Town centre objectives, policies and rules
Industrial objectives, policies and rules
Designations
Protected Trees
Minor tidy ups
We are currently working through these sections of the plan and working out what needs to change and what can be left as it is. As we make progress on this we will put further information up on this web page.
How long will this take and where are we at?
We will be releasing background documents and draft documents in a staggered way once they have been produced. This will occur throughout the remainder of 2021 and 2022.
Supporting documents
TD2050 - District Growth Management Strategy
Demographic snapshot
Challenges paper
District Plan Monitoring Report and Issues Identification (PDF, 1.5MB)
How can I have my say?
You can let us know your views any time online or call Hilary Samuel on 07 376 1591 or email hsamuel@taupo.govt.nz.
You can also register to be contacted for all sections of the plan, or different parts of the plan that you may have an interest in.