District Plan review
What is a District Plan?

It's the community's key document for managing the way people use their land. There are objectives and policies that set out what we want the district to look like and how we will balance landuse issues when they are in conflict. Rules in the plan set out what activities you can do as of right (permitted activities) and what activities we need to look at more carefully through a resource consent application. These rules cover things like how land can be subdivided, the height and location of buildings, where commercial and industrial activities can go, protection of heritage sites and management of noise.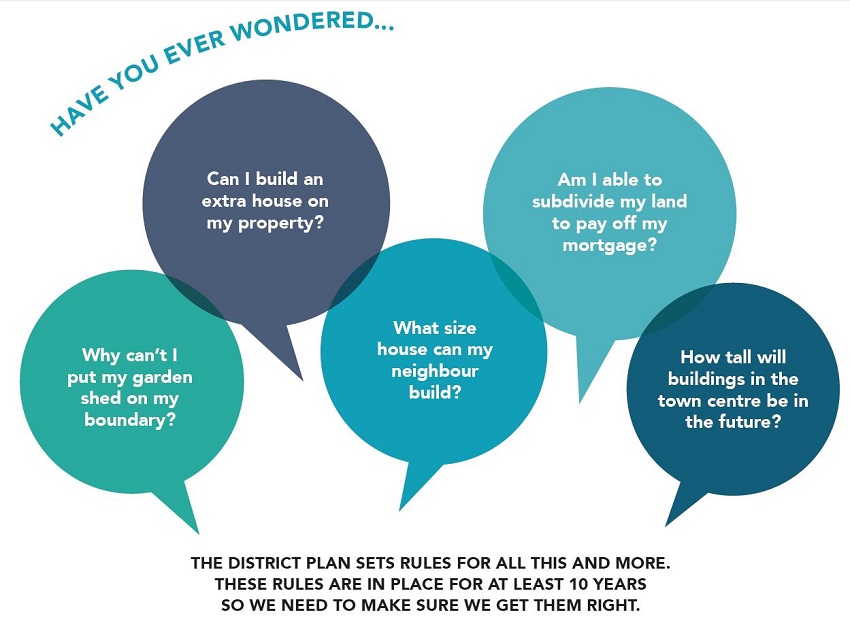 Why is the Taupō District Council reviewing its Plan?
The Resource Management Act 1991 requires councils to prepare a District Plan and review the different parts at least every 10 years. Most of the District Plan is now due for a review so rather than do that in pieces we have decided to look at it all together. Taking this integrated approach will allow us to make sure that the District Plan works better.
What will change as part of the review?
Collecting information and talking to the community and key users of the plan will help us decide what changes need to be made. Here are some of the things that the plan will need to address:
How big should houses and sections be in residential areas? Do we want them closer together or further apart?
Do we mind what new houses look like? Do we want residential areas to all have similar houses or should there be flexibility in what people are allowed to build?
We have an aging population, so do we need to allow for different types of houses and sections closer to town, public transport and services?
People want to live in the rural environment, so how much lifestyle living should we allow and how much should we protect farms and productive land from being subdivided?
How long will this take and where are we at?
The District Plan is very complex and we want to make sure we get it right. We need to make sure that our decisions are supported by evidence and reflect the changing needs of the community. We expect that collecting that evidence and talking to the many stakeholders will take about three years.
There will be plenty of opportunity to have input during this development phase. The District Plan will then be notified and enter the formal process which involves submissions, hearings and appeals. This phase must be completed within two years.
Operative versus Proposed?
During the review process you will hear us talking about the operative and the proposed district plans. These are terms used under the Resource Management Act to help distinguish between different versions of the District Plan.
The operative District Plan is the version that has been all the way through the review process and is no longer open to being challenged. Once we get the new version of the District Plan ready for feedback it then gets notified and at that point it officially becomes the proposed District Plan. It will stay as the proposed version until any appeals to it have been resolved.
National Planning Standards
The Government is introducing a "template" to guide how District Plans are developed. This means there will be some things that will need to fit in with the standards or may need to change from how they are currently set up within the District Plan.
Supporting documents
TD2050 - District Growth Management Strategy
Demographic snapshot
Challenges paper
District Plan Monitoring Report and Issues Identification (PDF, 1.5MB)
How can I have my say?
You can let us know your views any time online or call Hilary Samuel on 07 376 1591.
You can also register to be contacted for all sections of the plan, or different parts of the plan that you may have an interest in.