Whareroa North Plan Change
Proposed Plan Change 36 to the Taupō District Plan - Request to rezone Rural Land to Residential at Whareroa North
What is a request for a private plan change?
The Resource Management Act 1991 (RMA) allows anyone to apply for changes to district or regional plans through a request for a private plan change. Part II of the First Schedule of the RMA sets out procedural matters for local authorities to follow in dealing with requests for plan changes.
Taupō District Council has accepted a request from The Proprietors of Hauhungaroa No 6 for Plan Change 36 which means that the plan change remains a private plan change with Council administering the process of notifying the plan change application.
The Plan Change request seeks to:
Rezone a 14.63ha area north of Whareroa Stream adjoining the existing Whareroa settlement. The area is zoned under the Operative Taupō District Plan as Rural Environment. The applicant is seeking a Residential Environment zone to enable a maximum of 160 dwellings with densities ranging between 500m2 to 1,100m2.
Map showing location affected by Plan Change 36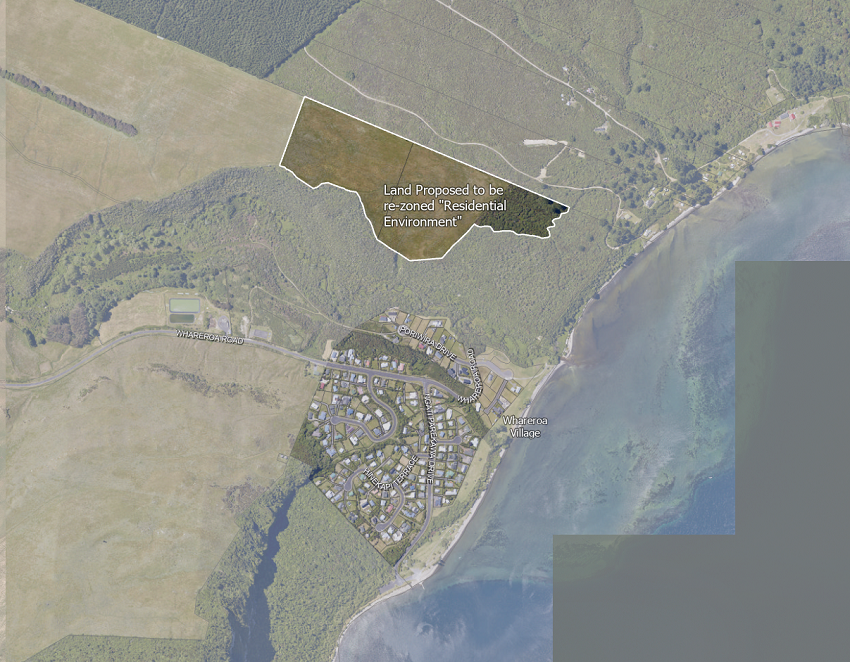 Submissions
Thank you for the submissions received. Submissions closed at 5pm on Friday, December 20, 2019.
Further information
Public Notice Plan Change 36 (PDF, 510KB)
Enquiries about this plan change can be directed to Hilary Samuel, phone (07) 376 1591 or email hsamuel@taupo.govt.nz.
The full plan change application and accompanying documents can be found below.
Please note the Council also commissioned an urban capacity report from an economist looking at the demand for rezoning land. This report is now available here:
Whareroa North PPC36 Economic Cost Benefit Assessment - Property Economics (PDF, 4.5MB)