Background and our approach
Introduction
We want everyone who calls Taupō District home and visitors who pass through to be safe when using our streets and roads. That means we need the right speeds on the right roads for all road users, whether you are walking to the shops, biking to school, driving to work or making deliveries.
The government has identified speed management as a key priority to address road safety across the country. Taupō District Council is responsible for setting speed limits on roads under its control to ensure they are safe and appropriate. We are working with Waka Kotahi (the New Zealand Transport Agency) to introduce a Speed Management Plan for the roads across our District.
The plan will bring together our strategies on safety-related infrastructure improvements and make some changes to speed limits across our district.
We have used data from the experts (consultants and road safety experts), and feedback from our community to shape our approach of setting speed limits outlined here. We now want to hear from you - the people who know our roads best - about our proposed speed limit changes and how they will impact you.
Speed management is key
We have a mix of road types across our District. Some are windy and hilly, others flat and straight. We also have many different road users including pedestrians, people with disabilities, cyclists, horses, tourists, cars, campervans, boats (being towed), agricultural vehicles, and heavy vehicles.
A review of data from 2011-2020 shows that on Taupō District roads (excluding State Highways) there have been 147 crashes resulting in fatal and serious injuries to people. Speed has been a contributing factor in the crash occurring in 25% of these incidents.
Regardless of what causes an accident, we know higher speeds lead to more crashes and a greater chance of injury or death. A small change in speed makes a big difference, especially when cyclists or pedestrians are involved. In a crash, speed is the number one factor in determining your chance of survival or likelihood of serious injury.
The chance of surviving an accident increases markedly below certain speeds. These speeds are outlined below:
pedestrian struck by vehicle = 30 km/h
motorcyclist struck by vehicle = 30 km/h
vehicle striking a pole or tree = 40 km/h
side impact vehicle-to-vehicle crash = 50 km/h
head-on vehicle-to-vehicle crash = 70 km/h
The way we currently manage vehicle speed
We regularly assess and review the physical aspects of our streets and roads to make sure they are safe for all road users. When setting and revising speed limits there are a number of things we consider:
Traffic volumes and types of road users, including pedestrians, cyclists, tourists, and trucks.
Historic crash information.

The characteristics of the road and roadside, including:
What is next to the road (e.g. housing, schools, playgrounds, retirement homes, tourist attractions).
What is on the roadside (e.g. footpaths, cycle lanes, power poles, trees, barriers, berms, ditches, gullies, cliffs).
What the road is like (e.g. width of the road and road edge, its surface, types of corners, visibility, number and type of intersections, pedestrian crossings and/or the existence of barriers).

Community concern (i.e. regular users of the road who see how it is used, potential risks and near misses).
The appropriate speed for the efficient movement of people and goods on the road.
When are the speed limit changes happening?
We are prioritising the changes we need to make over the next 10 (or so) years. The changes we are looking to make now (from 2022-2024) will focus on key roads where there are a lot of people and high numbers of vehicles. We will begin to implement these changes later this year, when the 2021 Land Transport Rule: Setting of Speed Limits comes into effect.
From 2024 we will start focusing on the second and third groups below. This will include roads identified as requiring additional infrastructure and roads that are not as busy. The focus areas are outlined below.
PRIORITIES AND FOCUS AREAS
Priority 1 (from 2022 until 2024)
Roads and routes that we expect to bring the greatest reduction in crashes.
The roads that connect to these to ensure the network is easy to navigate.
Streets where there are lots of people moving around - for example in town centres and outside schools.
Roads where the community are calling for change.
Priority 2 (from 2024 until 2027)
Continue to focus on key roads and surrounding areas where making changes will bring a reduction in crashes.
Most local neighbourhoods and the streets within them.
Roads that require infrastructure to improve safety (e.g. barriers, traffic islands, signage).
Priority 3 (from 2027 onwards)
Remote, low-volume rural roads including unsealed roads.
Any other roads identified as needing to change.
We are not looking to change speeds on state highways. This is because state highways are outside the responsibility of the council. They are set and managed by Waka Kotahi. If you have concerns with speed limits on state highways in our District, please raise these with us - we work closely with Waka Kotahi and will pass your feedback on.
How much will it cost?
There is no additional cost to make these changes. These changes have been budgeted for in our 2021-2031 Long-term Plan.
Our approach
We have used your feedback, resources, advice from Waka Kotahi and road safety experts to guide our approach in setting new speed limits.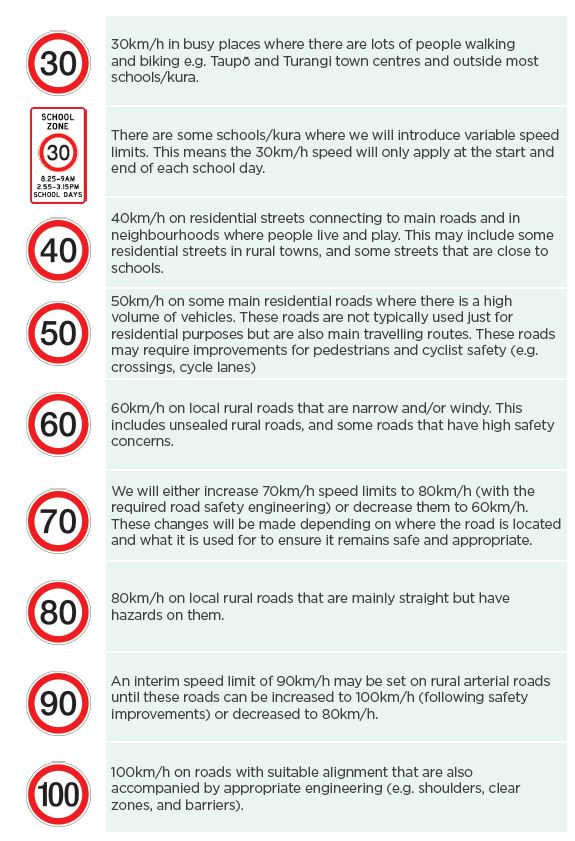 Submissions
Submissions closed at 4.30pm Friday 13 May 2022. Thank you for all of the submissions received.
What happens with my feedback
We will consider all feedback received throughout our consultation period. This runs until 4.30pm Friday 13 May 2022.
After gathering and looking at your feedback, priority one speed limit changes will be confirmed by Council and adopted in our Speed Management Plan. Waka Kotahi will also give approval and they will be added to the National Speed Limit Register.
Our Speed Management Plan and these speed limit changes will go through the following approval process:
Our Draft Speed Management Plan was approved by councillors in February.
We are now engaging with our community about our draft Speed Management Plan.
Consultation is open from 14 March until 4.30pm on Friday, 13 May 2022.
Speed Management Plan finalised - all of your feedback submitted through this consultation will be considered by our transport team as part of our final Speed Management Plan.
Plan approved - the final plan will be approved and adopted by Council later this year. Following this, we will send our plan to Waka Kotahi for their approval.
Implementation - we will implement priority one changes within the next two years. We will be back in touch about the speed limit updates in priority two and three at a later date.
Please note: All written submissions will be made available to the public on the Council website in accordance with our privacy statement. For more information, you can visit our privacy policy.