Tongariro Playground Redevelopment - Thanks for your feedback!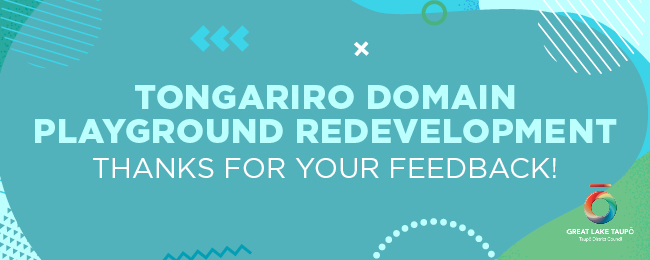 Thank you to everyone who provided feedback on the Tongariro Domain Playground Redevelopment. We received a great response from our community, with a wide variety of ideas shared with us. We're now working on incorporating that feedback into our final design.
We've looked at using fencing and vegetation to create a safe environment for our little ones including placing seating to maximise shade.
We're looking to create a playground that can be enjoyed by a wide range of ages and abilities by improving accessibility, including some challenging elements, and promoting free and inclusive play between parents and children.
We thought you might like to see the latest designs, so we have included a preliminary design. We're hoping to start work on the space in late August or early September, with the new playground ready for you and your young ones this summer.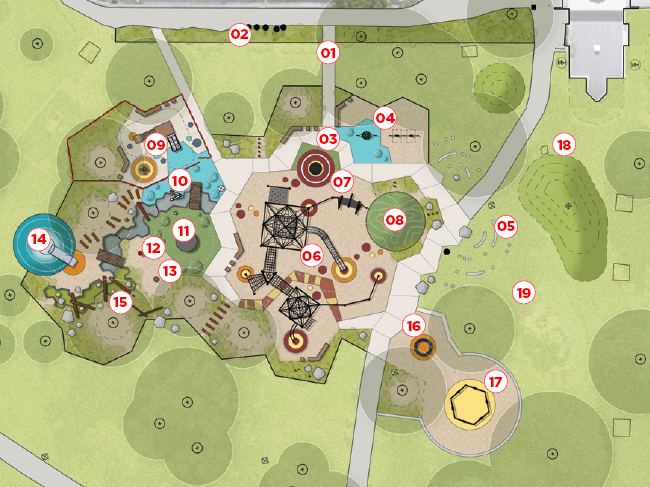 LEGEND
Relocate footpath to proposed location for direct access and view into playspace from carpark/dropoff.
Proposed planting buffer to define entrance and have a degree of separation to adjacent road/carpark.
Proposed concrete footpath connection with decorative sawcuts within playspace.
Proposed Toddler swing and Basket swing. Toddler swing sit in soft playground bark (soft fall) and basket swing with coloured synthetic turf surface for accessible access.
Inground feature for informal play and possible story telling with text inserts and possible music/sound play elements.
Proposed main net structure with climbing & balancing elements, providing opportunity for informal creative play.
Proposed accessible trampoline with soft rubber surround.
Proposed 1.2m tall soft rubber mound with planting surround. Existing chime element to be relocated within the planting surround.
Toddler play area with sand soft fall surface surrounded with landscape setting with a timber fence around perimeter of toddler play area. Toddler play unit with sand play component and relocate existing 4 way springer to play area.
Water play elements (Pump, trough and weir) and Cajon drums located on synthetic turf surfacing for accessible access. Potential to incorporate misting components to water rill edge for a more interactive play.
Accessible carousel in synthetic turf surface and gentle ground contouring.
Relocate existing spinner bowl to proposed location.
Relocate existing spinner disc to proposed location.
1.6m high soft rubber mound with embankment slide.
Stepping posts and log scramble for informal play.
Retain existing supernova in current location. Proposed to resurface landing / fall area with rubber surround and soft playground bark.
Retain existing social swing in current location. Proposed to resurface landing / fall area with rubber surround and soft playground bark.
Proposed gentle feature grass mound with potential to collaborate with local artist to design cultural marker to represent Mount Tauhara.
Generous open space flexible grass that enable family picnics and ball sports.