Taupō wins Supreme Award at Beautiful Awards 2023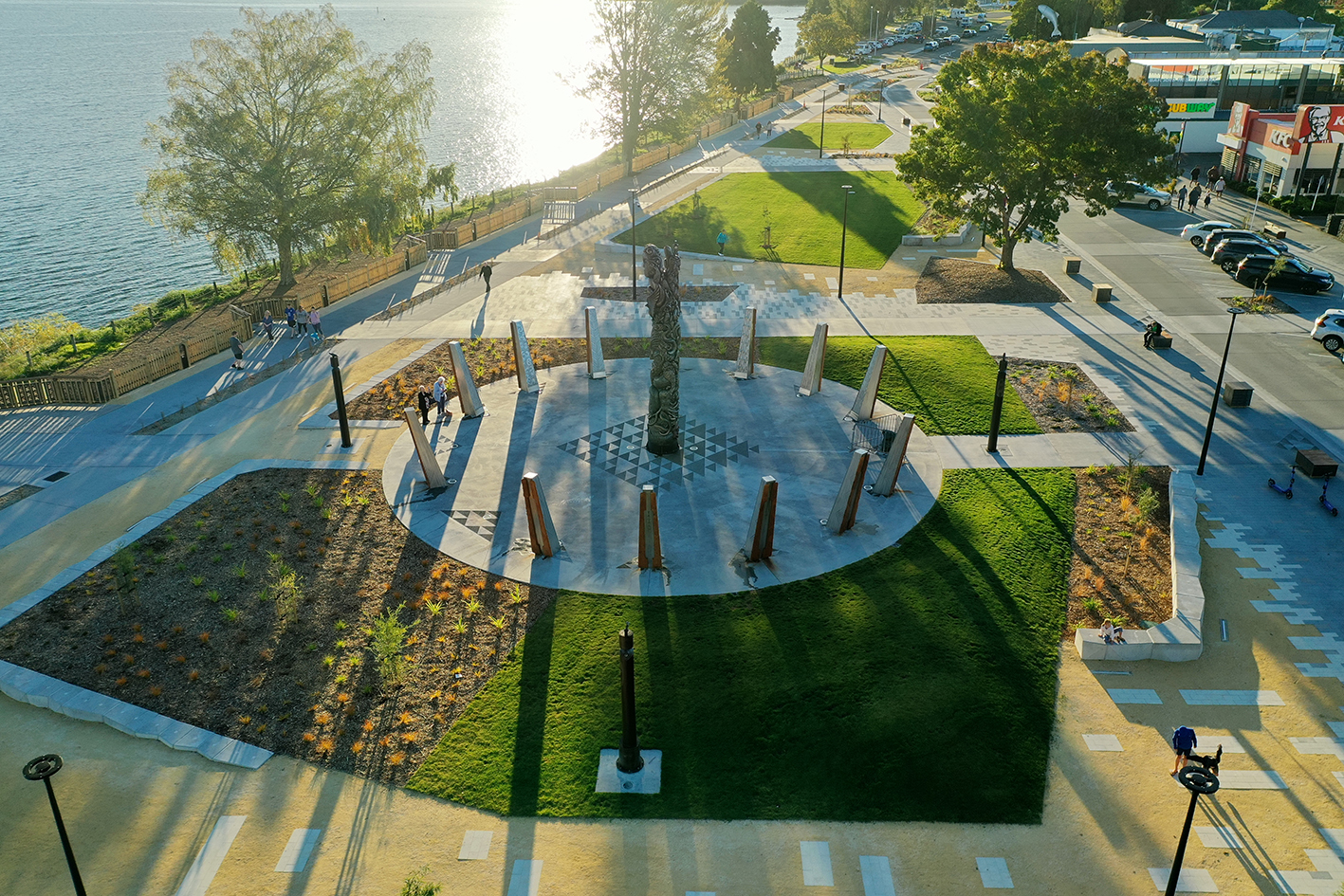 Taupō District Mayor David Trewavas says he's absolutely delighted after Taupō town won the Supreme Towns & Cities Award at the Beautiful Awards in Wellington last night.
The awards are organised by the not-for-profit environmental charity Keep New Zealand Beautiful, and were held at Parliament House in Wellington.
There was initial disappointment for the Taupō team at the awards ceremony when Whakatāne pipped fellow finalist Taupō for the Most Beautiful Large Town gong. Tūrangi, which was a finalist in the Most Beautiful Small Town category, had also just been announced as runner-up to Arrowtown.
But the real surprise came at the end of the night, when, as the last award was announced, disappointment turned to disbelief and then excitement as Taupō was named the Supreme Award winner.
Taupō district councillor Sandra Greenslade, who was representing the Taupō District at the awards, along with Te Takinga New of Ngāti Tūwharetoa and Ngāti Tūrangitukua, said those in the Taupō group could hardly believe their ears.
"We heard them say 'T' and we all thought they were going to say Tauranga. So when they said Taupō instead, we all sort of looked at each other.
"It was lovely though – there was a lot of really lovely applause and shouts and cheers across the room. We were surprised and then we were over the moon!"
Mayor Trewavas said he received the good news shortly after the award was announced.
"I'm absolutely stoked – this is amazing news for the community," he said.
"The judges commended Taupō for its many environmental initiatives and it is so great to see that all the effort that the council and the community put into reducing waste and cleaning up litter has really paid off.
"I'd particularly like to acknowledge the efforts of Tidy Taupō, led by Carol Lamb, who put countless volunteer hours into picking up rubbish, Greening Taupō who have done so much work to plant native trees in our gullies and open spaces, and our council waste minimisation team who actively look for opportunities to reduce waste, provide recycling opportunities and recover as much waste as they can.
"Of course none of this would work without our amazing locals who also buy into the reduce, reuse, recycle ethos. When I see people up at our Broadlands Road Resource Recovery Centre recycling their batteries or dropping off their whiteware or children's car seats for recycling, I'm always immensely proud. I want to thank the schools and businesses who have got on board with our Resource Wise Programmes, everyone who has ever come along to one our community litter pick ups and all the little things so many people do unnoticed every day, that make our town so beautiful. Even small things like taking a reusable coffee cup to your local cafe to save on a takeaway cup make a difference.
"I'd like to give a further shout to our council staff – the parks team's reserve rangers who keep our parks and reserves looking good, the environmental rangers who clean the toilets and the town centre and pick up litter and the staff who helped bring the amazing vision of our new lakefront Te Ātea to life – all of you deserve this award.
"Then there's Towncentre Taupō with its Graffiato murals, our new airport terminal, our beautiful new town centre – there's almost too many things to list!"
Mr Trewavas said he also wanted to particularly acknowledge the efforts of the Tūrangi community. This year was the first year the town had made the finals of the Beautiful Awards in the Most Beautiful Small Town category and Tūrangi locals should be justifiably proud of that achievement, he said.
"It was amazing the pride that this brought out in so many people. We really saw the Tūrangi community coming together to celebrate their place. One of the things that was really incredible was a big Community Clean Up Week organised in September after Tūrangi became a finalist in the awards. An incredible amount of litter was picked up and it was good for the soul just to see how much people really cared about their beautiful little town."
Keep New Zealand Beautiful CEO Heather Saunderson personally visited all of the town and city finalists in the awards and said while all the submissions were of a very high standard and it was a hard award to judge, Taupō was the winner.
"Out of all the towns and cities I visited, Taupō ranked amongst the highest for the many climate conscious initiatives it undertakes, excelling across every other criteria, making it the clear winner of the Supreme Award," said Ms Saunderson.
She said initiatives of particular note were:
Taupō's Kai Rescue Programme which works to reduce food waste by redistributing food from local cafes and supermarkets into pockets of the community in need.
Taupō's regular community clean up events which aim to tackle litter and bring the community together.
The implementation of their Downstream Defenders which aims to reduce waste into beautiful Lake Taupō by removing small rubbish items such as small plastics, cigarette butts and rubber from stormwater
Addressing waste end to end by encouraging the community to Reduce, Reuse, Repurpose and Recycle.
The Taupō District Council's sustainable transport schemes which include e-bikes and hybrid cars. Taupō is soon to receive its first new electric bus, too.
Taupō will receive, as part of the Resene awards sponsorship, a mural painted in the town by a local artist up to the value of $10,000.
The Beautiful Awards are New Zealand's longest-standing environmental awards. Taupō last won in 2021, when it was named Most Beautiful Large Town.
If that wasn't enough, the new Te Ātea space, on the lakefront at Roberts Street, with its striking carved pou centrepiece and circular atea representing Lake Taupō and all the rivers that flow into it and conceived as a place for people to come together, learn the stories of the Taupō District and feel welcome, won the Kiwis' Choice Award in the Places Awards category. The artworks in Te Ātea were created by Ngāti Tūwharetoa artists Delani Brown and Kingi Pitiroi. Te Ātea was part of the Taupō District Council's three-year $25 million Taupō Town Centre Transformation project, which attracted $20.6 million of central government funding via its shovel-ready projects fund.