Joint Management Agreements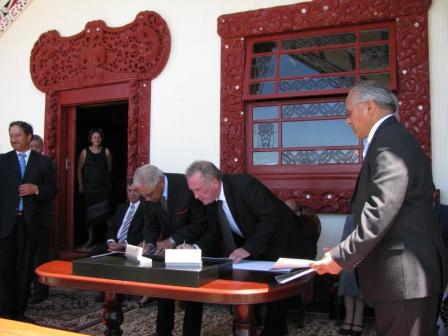 Ngāti Tūwharetoa
After a year of planning, a historic agreement was signed between iwi and local government on 17 January 2009 when Council granted Ngāti Tūwharetoa decision-making powers in resource consent decisions - the first time a New Zealand local government has transferred powers to an iwi.
The Joint Management Agreement was finalised at Tapeka Marae in Waihi Village, the principal home of Ngāti Tūwharetoa Paramount Chief Tumu te Heuheu. Mayor Rick Cooper signed alongside Dr te Heuheu, while New Zealand Governor-General Anand Satyanand witnessed the proceedings with other invited guests.
The agreement will see a joint committee established in which appropriately qualified iwi appointees will join councillors in resource consent and private plan hearings changes which apply to Maori multiple-owned freehold land. It is estimated that more than 50 per cent of the Taupō District's land area is owned by members of Ngāti Tūwharetoa.
JMA Landowner Guide (PDF, 247KB)
TDC and Ngāti Tūwharetoa Joint Management Agreement (PDF, 3.6MB)
Map: Maori land within the Taupō District (PDF, 40.2MB)
River Iwi Joint Management Agreements
Council has signed joint management agreements with Raukawa Settlement Trust (5 September 2013) and Te Arawa River Iwi Trust (19 May 2017). The agreements are a requirement of the Ngāti Tūwharetoa, Raukawa and Te Arawa River Iwi Waikato River Act 2010.

Central to the agreements is how the Council and the iwi authorities will work together to promote the restoration and protection of the Waikato River. This involves collaboration on the development of the District Plan, resource consent decisions and monitoring and enforcement under the Resource Management Act 1991.
TDC and Raukawa Joint Management Agreement (PDF, 919KB)
TDC and Te Arawa River Iwi Trust Joint Management Agreement (PDF, 1.2MB)