Background and benefits
Background
State Highway One previously carved along the Taupō lakefront and then through the middle of the town centre. It dragged regional traffic through town and separated the retail and hospitality areas from the Lake and the main recreational event space, Tongariro Domain.
Council and Waka Kotahi (NZTA) took the first step to address these issues with the construction of the East Taupō Arterial. It redirected the heavy regional traffic to the east of the town and freed up Council to manage the local roading network.
The community and Council took the next step with the preparation of the Taupō Urban Commercial and Industrial Structure Plan (2011), which laid out an ambitious plan to transform the town centre. Communities need to have vibrant, attractive, liveable places to attract a skilled workforce.
Transformation now underway
Our funding application to Crown Infrastructure Partners in April 2020 was one of the last pieces of the puzzle. With a $20.6 million government investment, this project – which will take place over two years and across four phases - is now underway.
The foundation of the transformation is a reorientation of the street network. The streets and lanes that connect the town centre provide the places where people meet to do business and enjoy the social atmosphere. Turning them into quality places is a critical part of attracting people to spend time in the town centre with the associated social and economic benefits.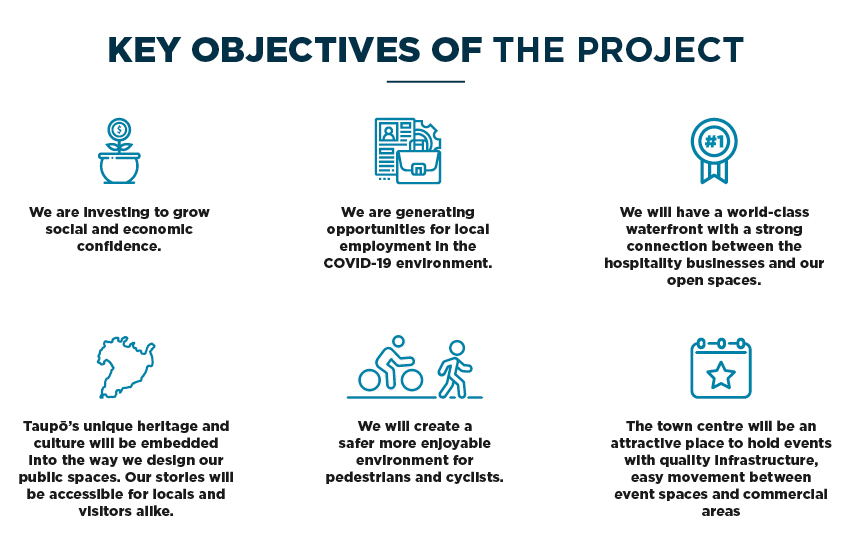 Benefits
This $20.6 million funding injection will provide an important economic and social boost for our district, including providing the equivalent of 92 full time local jobs over the next two years.
Turning our CBD into an area with quality places, that puts people-first, is a critical part of attracting locals and visitors alike to spend time in the town centre, with huge social and economic benefits associated with that.
It is about connecting the CBD to its surrounding environment and utilising what we are so blessed to have here – a beautiful lake and a real opportunity to create inviting, attractive spaces.
It will create opportunities for public/private investment and cooperation by creating places where people want to meet to do business and enjoy the social atmosphere.