Tūrangitukua Park Community Sports Facility
Project overview
A partnership between Ngāti Tūrangitukua and Taupō District Council will see the construction of a new sports facility at Tūrangitukua Park in Tūrangi.
The new sports facility, once built, will be able to host visiting sports teams, provide shelter in poor weather and create a space for community groups to use, too. The location of the sports facility will be easily accessible, close to the two playing fields and car parks, while the building itself will include a main hall, changing rooms and a kitchen. The project has a total budget of $3.5 million.
In parallel to the build, monthly focus meetings with representatives from various local sporting groups are being held. One of the key functions of this group is to collaboratively design and implement a community-led operating model in conjunction with Council.
Location:
Tūrangitukua Park
Tūrangi
Project status:
In progress
Project budget:
$3.5 million
Contractor:
Livingstone Building Limited
Start date:
August 2022
Completion date:
January 2023
Using the facility
If you belong to a local sporting group intending to use the new facility and would like to join this forum, please contact Project Manager, Pete Bradshaw at pbradshaw@taupo.govt.nz.
Project updates
12 DECEMBER 2022
Livingstone Building – the team doing the mahi at Tūrangitukua Park – has been dealing with four seasons in a day recently but is still making great progress on the new sports facility project.
The roof is now on and we are hoping to have all exterior doors and windows in before Christmas, with the interior finishing and fit out to follow in the new year. The team is working hard to ensure the facility is open for the start of the 2023 winter sports season.
18 NOVEMBER 2022
Thanks to everyone who joined us last Wednesday in Tūrangitukua Park to celebrate raising the roof of the new sports facility.
This is a much anticipated project for the Tūrangi community and this milestone was celebrated by about 60 to 70 locals, councillors, contractors and the project team, with games for the young and young at heart, as well as a good old Kiwi sausage sizzle.
There were tours of the construction site and it was great to hear so many positive comments about the project.
Special thanks to Ngati Tūrangitukua for the karakia and welcome, our contractor Livingstone Building for running the site tours, and Tūrangi ITM who provided the barbecue and did all the cooking! It was a fantastic day with our community – and we can't wait for the grand opening.
18 OCTOBER 2022
We're making great progress on the sports facility at Tūrangitukua Park and are looking forward to seeing it all finished and being put to good use by our local community.
In the latest instalment of our video updates we talk to some local sporting specialists, and we're also putting it out there that we're looking for expressions of interest from sporting groups to undertake the management of bookings and general responsibilities for the facility once it is complete.
To find out more get in touch with Charlie Nguyen at cnguyen@taupo.govt.nz or call 0800 ASK TDC; expressions of interest close at 1pm on Friday, 4 November.
22 SEPTEMBER 2022
Our sports facility project at Tūrangitukua Park is going well, and in the second of our video updates Councillor John Mack and Events and Venues Manager Steve Giles bring us up to speed and add a little background to the project.
7 SEPTEMBER 2022
In our first vlog about the Tūrangitukua Park Sports Facility, Kaumatua Jeff Bennett of Ngāti Tūrangitukua introduces the project and wishes all who use it well.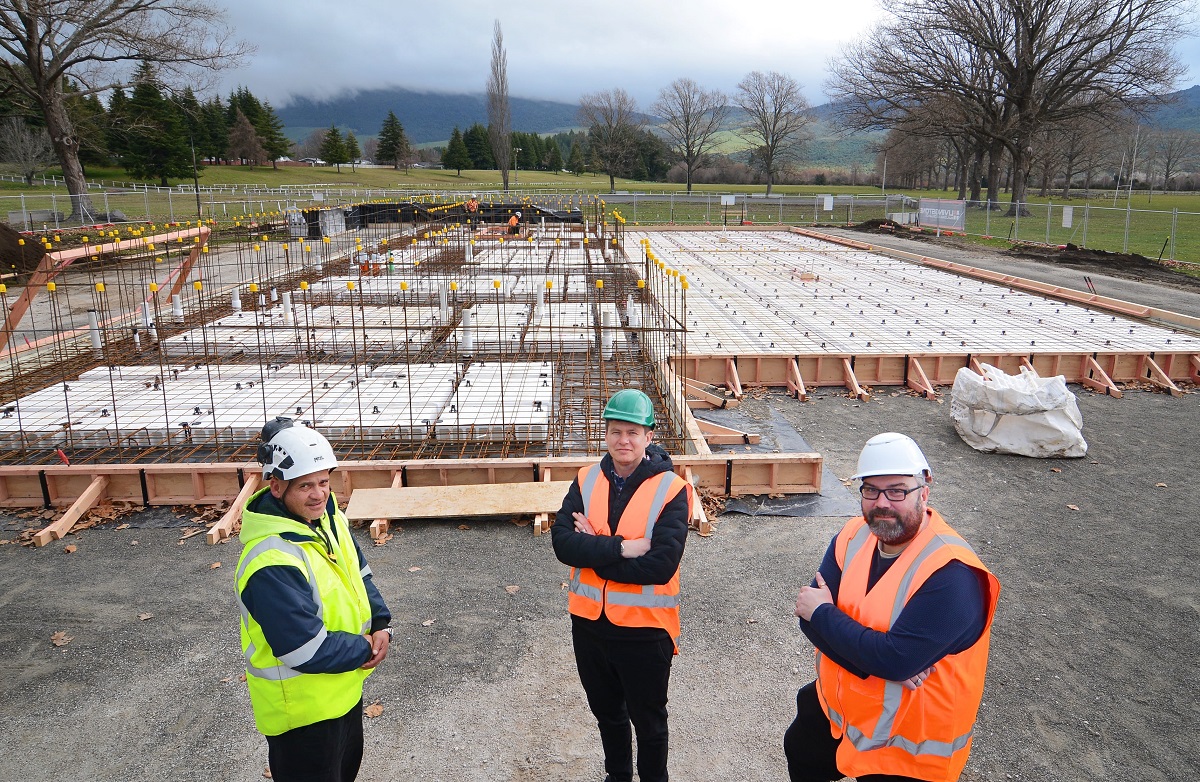 12 AUGUST 2022
The weather has been less than ideal but that hasn't stopped our contractor Livingstone Building Limited from getting the new sports facility at Tūrangitukua Park off to a great start.
The new facility, which is being built through a partnership with Ngāti Tūrangitukua and Taupō District Council, now has a completed foundation complete with internal water and wastewater pipes and electrical and data ducting in place.
Senior Project Manager Pete Bradshaw said that the blockwork superstructure is the next piece of the puzzle, with the timber framed walls set to go up in the coming weeks.
"All the boxing and steel reinforcing is in place," Mr Bradshaw said, "and once the block work is done our timber framing can go in and our facility will start to look like a building!
23 MAY 2022
The beginning of construction of the new sports facility at Tūrangitukua Park was marked with a blessing last Monday.
Sir Tumu te Heuheu helped to break the ground, Ngāti Tūrangitukua kaumatua Jeff Bennett officiated and the blessing was led by Katipo Te Hiini. Representatives of Ngāti Tūrangitukua, council, the Tūrangi-Tongariro Community Board, and construction contractor Livingstone Building were joined by Mayor David Trewavas, councillors and members of the community.
Mr Bennett said the facility would be an asset for the town and was something that the community had wanted for many years.