Great Lake Walkway upgrade
UPDATE February 14 2020: Work progressing well on Great Lake Walkway upgrade
Contractors are well ahead of schedule with the Great Lake Walkway upgrade and are moving on to Kaiwaka Point from Monday, February 17 until approximately mid-March (weather permitting). This means the entire Point will be closed during this time. See the map below for current path closure and detour details.
While contractors are moving to Kaiwaka Point, the final finishes to the first stage of the path from Rainbow Point to the Two Mile Bay boat ramp are still taking place, and we are looking to have this section re-opened by the end of February.
Thanks to everyone for your patience and understanding as we work to improve this important waterfront asset.
Project overview
Construction on the Great Lake Walkway upgrade got under way in January 2020.
The upgraded section will be from the water treatment plant on Lake Terrace, opposite Rifle Range Road, to Kowhai Road at Rainbow Point.
The final costs of the project are $4,160,000 and cover widening and improving the walkway surface, addressing safety concerns, important erosion control work, and improved design that will reflect the values of local hapu.
The upgrade will provide significant long-term benefits for the community, our visitors, our lakefront environment and our economy.
The majority of funding for the upgrade will come from the 2018-2028 Long-Term Plan.
Benefits of the project
The widening of the path and erosion control works will create a more user-friendly experience for visitors and locals, accommodate an increase and changing use of our lakefront and enhance the cultural importance of this outstanding natural area.
We are working closely with local hapu and landowners on the lakefront and will also be adding design elements to reflect their values.
From next year's IRONMAN world championships event alone, which relies on an upgraded path to accommodate the number of participants competing, we will see $19.5 million brought into our district.
Access to the lakefront
We will be working to minimise disruption for users of the walkway, with alternative routes included where possible.
See the map below for current path closure and detour details.
Timeframes
The work will be completed in stages, beginning in January 2020 and is expected to be complete by August 2020 – weather permitting.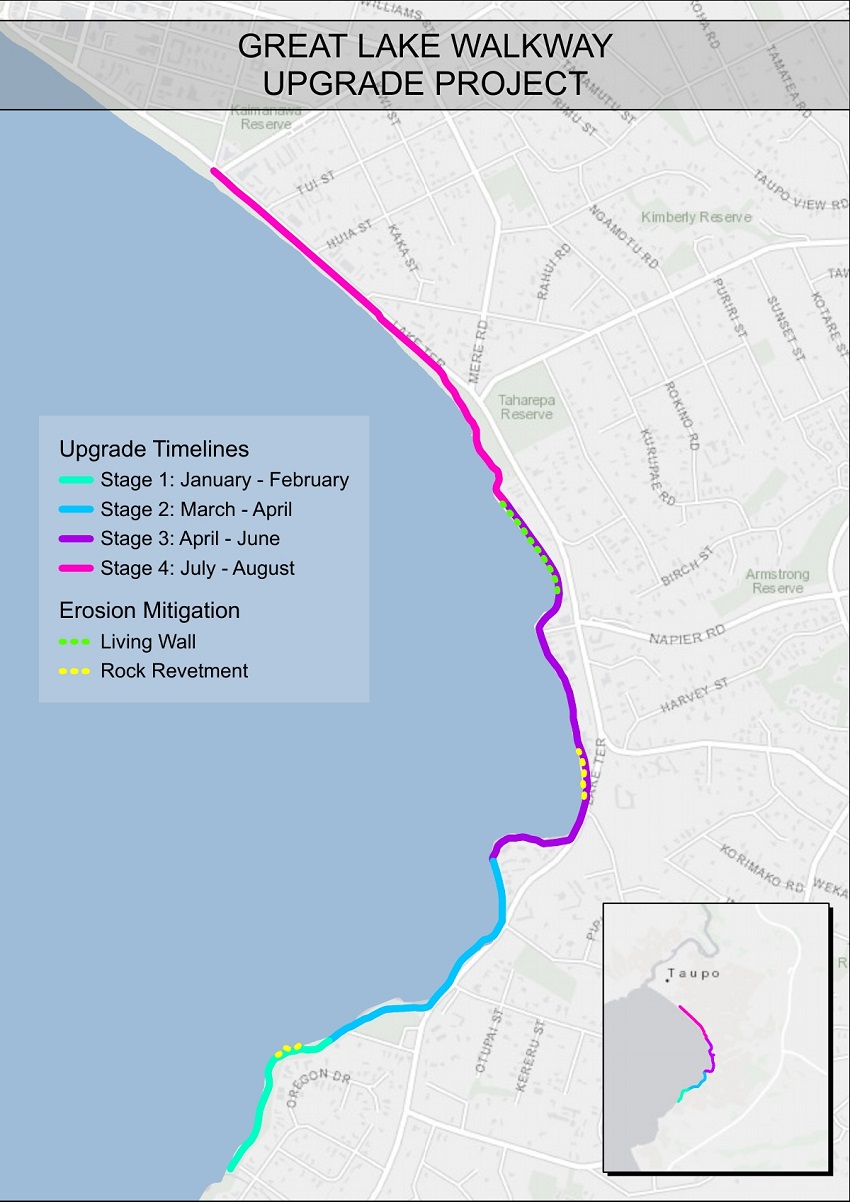 Media releases and updates