Lake front development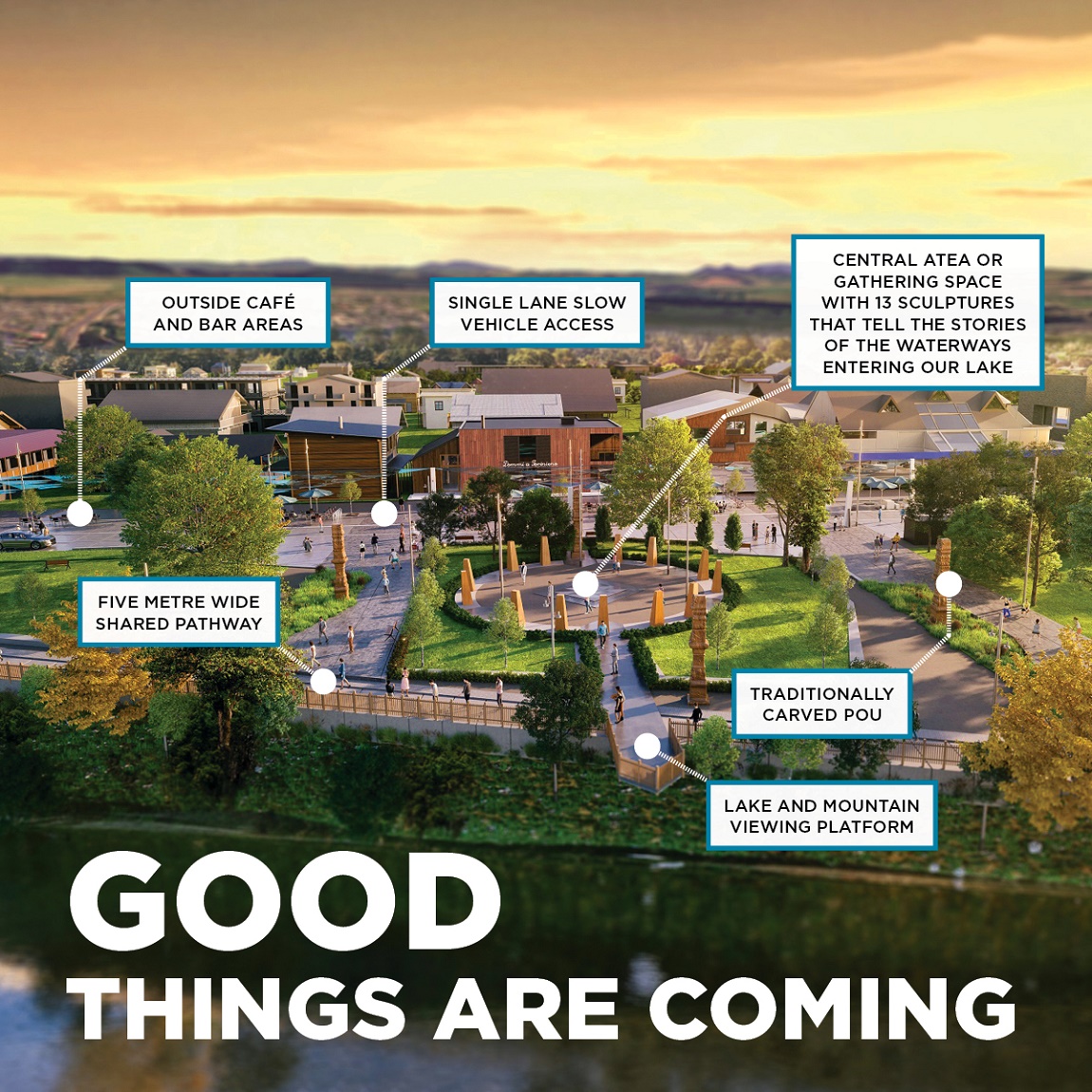 Overview
The most dramatic part of the Taupō Town Centre Transformation project is the transformation of Roberts Street and Lake Terrace into the new heart of our town.
This phase of the project will see the development of a new community space around Roberts Reserve which will give us an outstanding waterfront that will better connect people to our beautiful lake environment and help to keep our town pedestrian-friendly and vibrant.
Traffic along this important stretch of town will be reduced to a single low-speed lane running north to south, with a new emphasis on pedestrian movement and community spaces to make the most of the world-class views and to showcase our lake, our mountains and this hospitality precinct.
This beautiful space will include a lookout, a new reserve layout, and more concession space for businesses, making this an area where our community can meet and linger and one that welcomes visitors to our district. Our unique heritage and culture will be embedded in the design of the public spaces here, telling the stories of the Taupō district for locals and visitors alike, and providing spaces for everyone from friends and whanau to civic functions and events.
This phase of the transformation project started in June 2022 and is due to be completed before December 2022 – just in time for us to celebrate the new heart of our town over summer.
We ask you bear with us while the development is taking place, all the restaurants and cafés along the lakefront are open so come on down and see the biggest show in town!
Location:
Roberts Street and Lake Terrace,
Taupō Town Centre

Start date:
June 2022

Completion date:
December 2022
Contractors:
Camex and Downer
24 November 2022
The new lake front space is taking shape! The weather has been decidedly unfavorable but it's still been all go on our Taupō Town Centre Transformation.
The team have been dodging the rain to complete paving and kerbing, and with a couple of pretty sizeable concrete pours under our belt things are really starting to take shape. The circular space at the heart of the new pedestrian precinct is in place and gives an idea of the scale of the project, light stands are going up, gardens are going down, and our contractor will soon be soda blasting designs into the concrete in front of the businesses.
We've been working with local creatives on these designs and the overall space - and while we can't reveal too much at this stage, it is going to be something that is uniquely Taupō and that celebrates our lake, our lake front and the stories of our district!
1 NOVEMBER 2022
With paving largely completed in front of the businesses on Roberts Street, locals and visitors got a taste of summer over the long weekend, as well as what the Taupō Town Centre Transformation will look like.
Cafes and restaurants now have seating on the new concession spaces and Waterside owner/manager Greg Sherson says the new spaces are proving very popular with both locals and visitors.
"We had a really busy long weekend, in fact just as busy as New Year's, so the new spaces are definitely working," he says.
"We haven't really added any extra seating but we have much more space and people are loving it. We had a lot of compliments and when the sun is shining it's just a great place to be."
Taupō District Council stakeholder manager Julie McLeod says work is continuing on the new pedestrian space on the western side of the single-lane accessway, with contractors working over the long weekend to make the most of the good weather.
"The team has really been pulling out all the stops while the sun shines and it's great to see that the new concession spaces are working and drawing people into our CBD," she says.
"The best is yet to come. We are looking forward to a fantastic summer and completing the really exciting work on the lakefront. This is going to be unique to Taupō, something that brings people to our district and make locals proud."
22 JULY 2022
Despite some pretty average weather over the last two weeks, our Taupō Town Centre Transformation work is still on track. The work underway around Roberts Street is now in full swing, and the team have been dodging the weather to get the cement base of the new road layout outside the cafés and restaurants stabilised.
This has been a pretty big piece of work and an important one as it gives us a firm footing to work on from here. In the coming days the team will continue to shape and compact the new layout ready for final surfacing, and from next week our plan is to work on irrigation, garden beds and cobbles.
During this time the entry and exit to KFC will be altered to enable the work to carry on. It will still be accessible during opening hours, with traffic controllers on site to assist.
23 JUNE 2022
With the new Tītīraupenga Street/Lake Terrace intersection up and running and the new road layout on Tongariro Street nearing completion, the focus of the Taupō Town Centre Transformation is now shifting to the final and most exciting phase - the development around Roberts Street of a new and more people-friendly environment that makes the most of our fantastic lake front.
The transformation here will better connect people to our beautiful lake environment and help to keep our town pedestrian friendly and vibrant and it's going to be a real focus for our town. We understand it's going to be inconvenient while the construction is underway, but good things really are coming here in the form of a world-class waterfront.
Work on Roberts Street will kick off in earnest this weekend as our contractor begins work on removing the road surface. We know it's a long weekend but due to tight scheduling and availability of machinery, we're fast-tracking this work to make sure we get it done before the bad weather returns.
Thanks for your patience - and spare a thought for the team on the tools this weekend!