Ruapehu and Tuwharetoa intersection upgrade
Overview
Phase one of the Taupō Town Centre Transformation includes a revitalisation of three CBD intersections along Ruapehu Street with the focus on addressing pedestrian and driver safety issues and enhance the sense of place unique to the Taupō CBD.
The upgrade of Ruapehu and Tuwharetoa streets intersection is the first of three to be upgraded, with work getting underway in August 2020. The upgrade is expected to be complete in November when the contractor will move to the next intersection.
| | |
| --- | --- |
| Location: | Ruapehu and Tuwharetoa streets intersection |
| Project status: | In progress |
| Start date: | August 2020 |
| Completion date: | November 2020 |
| Contractor: | Camex |
Project updates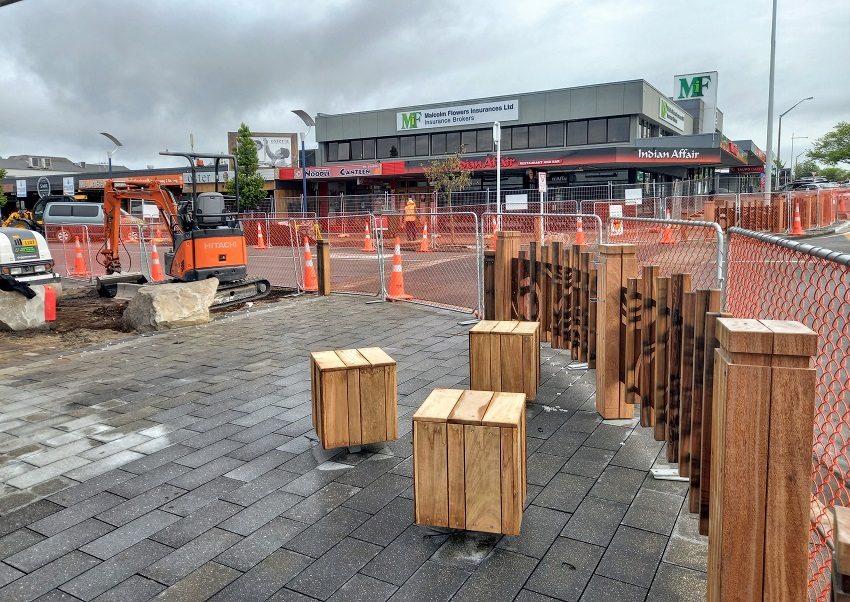 October 30, 2020: Road reopens to traffic at upgraded intersection
The transformation of the intersection of Ruapehu and Tūwharetoa streets is almost complete, with the road reopening to through-traffic last night, and only minor finishing touches to go.
September 28, 2020: Intersection spruce up taking shape
The Taupō Town Centre Transformation project is progressing well, with the first half of the Tūwharetoa/Ruapehu streets intersection nearing completion and contractors moving on to the opposite corner at the end of this week.
September 10, 2020: Prime Minister takes tour of Taupō Town Centre Transformation project
Prime Minister Jacinda Ardern today took part in a tour of the Taupō Town Centre Transformation project, calling it "the most shovel-ready project I've seen".
September 4, 2020
It's been a busy week onsite at the Tuwharetoa Street and Ruapehu Street intersection, with preparatory works for the new kerbing and channeling completed and the concrete poured. Cables and ducting have also been completed, and there has been some tidying up around the drains too.
Next week will be just as busy with work getting underway on the paved areas, the pedestrian crossings and the pouring of concrete bases for the street furniture. And last but not least our contractor will be at the Tauhara quarry site picking out some local rocks to feature in the landscape design and delivering them to the site, so bring on more blue skies!
August 25, 2020
The Camex team have been busy working on the Tuwharetoa / Ruapehu intersection in the wee hours of the mornings to minimise noise and disruption during normal business hours. Last week, they removed some kerb, installed a new stormwater catch pit and pipework although the weather put a bit of a dampener on it towards the end of the week. They're still full steam ahead though, with saw cutting and cobble stone removal continuing today.
August 6, 2020: Transformation of Taupō Town Centre underway on Monday
The transformation of the Taupō Town Centre will get underway on Monday with the redevelopment of the intersection of Ruapehu and Tuwharetoa Streets.
July 1, 2020: $20 million Government injection for CBD transformation
Taupō's Central Business District is set to be transformed following today's announcement that Taupō District Council has been granted $20 million from the Government's Infrastructure Reference Group.