Tongariro Street upgrade
What is changing on Tongariro Street
From August 2021, the Taupō Town Centre Transformation project will move to Tongariro St, to begin construction work there.
This is a major piece of the puzzle for this project. While you currently have through-traffic moving along this four lane route, the aim of this project is to move this traffic over to Titiraupenga Street and create a much more inviting environment along Tongariro Street.
You will see a reduction to two lanes on Tongariro Street and a slower speed zone in this area, along with important improvements for pedestrians and cyclists – including pedestrian islands and a cycle lane running adjacent to the Domain.
There will also be better linkages between the CBD, Tongariro Domain and Lake Terrace along with additional outdoor dining spaces.
While we have included important pedestrian and cycling improvements, we are also substantially increasing the number of car parks to ensure we are continuing to cater to a variety of modes of transport.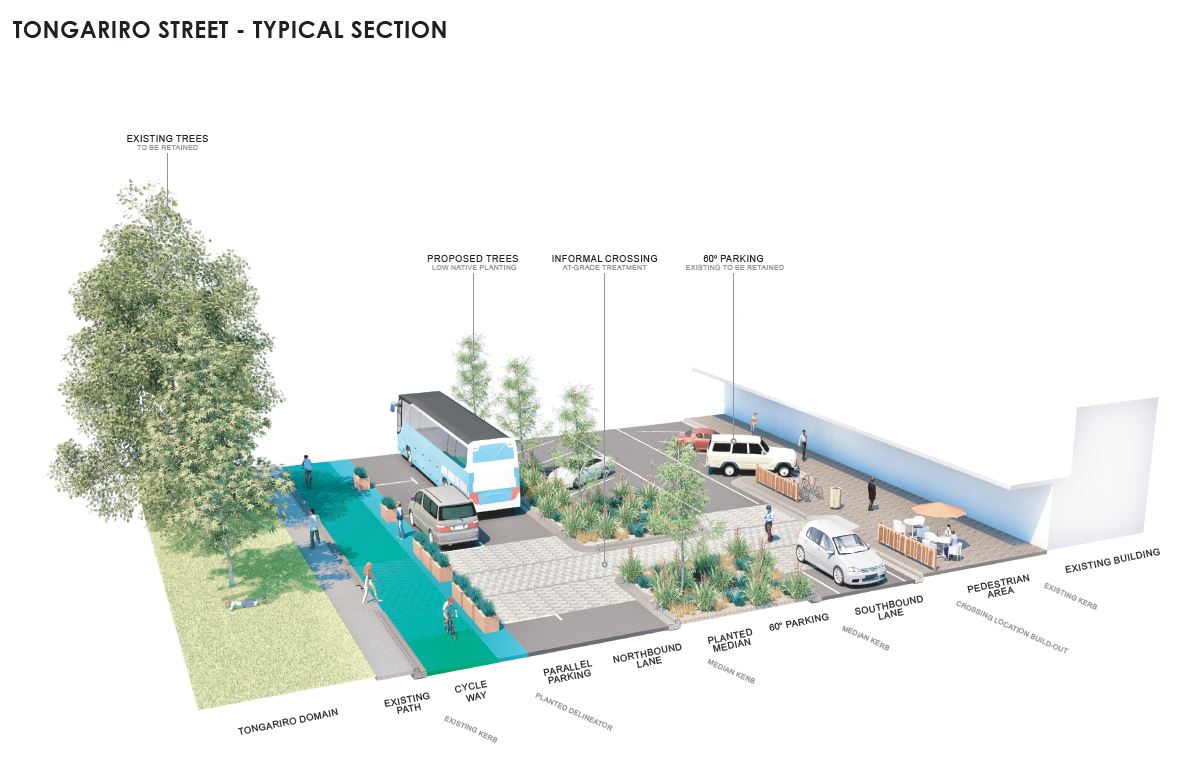 Project updates
October 14, 2021: Tongariro Street update
We have a big few weeks ahead of us to try and knock out the majority of the works on Tongariro Street, between Spa Road and Tamamutu Street. Our goal is to get in and get out as quickly as we can. This means there will be a fair amount of disruption with road and lane closures as well as heavy machinery onsite.
We will be working on everything from stormwater pipes, the connection to the Acacia Bay water supply as well as the kerbing and centre islands, much like the work that has been completed further down Tongariro Street. To allow this work to happen, there will be a southbound lane closure on Tongariro Street, from Spa Road through to Tamamutu Street for the next two weeks, weather permitting. Pedestrian access will be maintained at all times.
September 17, 2021: Town Centre Transformation taking shape on Tongariro
Despite less than great weather, we're still making good progress on the town centre transformation with work going well on Tongariro Street between Tamamutu Street and Horomātangi Street. Our contractor is almost done with the underground stormwater infrastructure in this roadway section, and once completed we'll be moving on to the more visible, above-ground work on the street itself.
Weather permitting, our contractors will begin forming the kerbs for the new centre median, and creating the new kerbs containing the built-out sections of footpath in front of the shops.
Project manager Travis Delich said there will be some disruption to parking and traffic flows, and to ensure a safe working space for contractors, southbound traffic will be temporarily diverted down Tamamutu Street.
"Our team will be working as quickly as possible to get this section of work done," Mr Delich said, "so please drive safe and follow the guidance of our traffic management team.
"Pedestrian access to businesses will be maintained at all times however, so come on down to support our local businesses and see how things are taking shape!"
July 26, 2021: Construction work ramps up on Taupō Town Centre Transformation project
The first phase of work on Tongariro Street starts on 2 August with the removal of the current centre traffic island south of Spa Road roundabout to te Heuheu Street. It will then be concentrated between the Tamamutu Street and te Heuheu Street intersections, before moving onto the next 'block'. This phase is expected to be underway through until the end of November, weather permitting.
Camex Civil is delivering this phase of the project and will be working to minimise disruption as much as possible. However, to allow construction to take place, Tongariro Street will be reduced to one lane north and south, from Spa Road to te Heuheu Street as part of this first block of construction work. There will also be restricted access into, and out of, Tamamutu Street from Tongariro Street. Throughout construction, there will be some further road closures, which will be clearly sign-posted when they occur.
Bus stops normally on upper Tongariro Street will be temporarily relocated to Paora Hapi Street, in front of the old St Johns building from 31 July through until the end of construction.