Te Kapua Park playground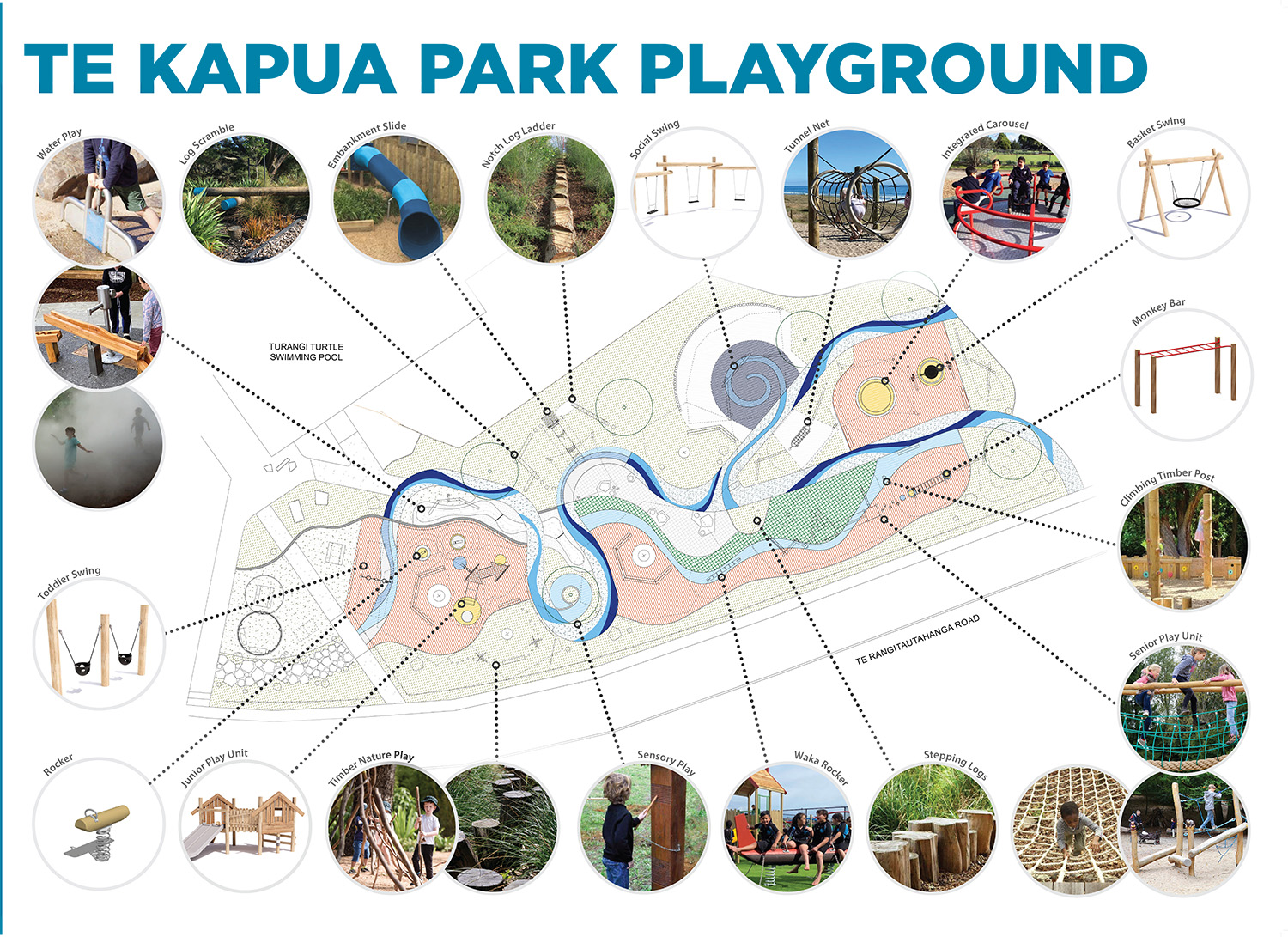 Project overview
A new papa tākaro (playground) is being built at Te Kapua Park in Tūrangi. The new play space is a partnership between Ngāti Tūrangitukua, who own the land, and Taupō District Council.
The aim of this project is to create a unique play space themed around some of the stories of the surrounding rohe, such as the Tongariro River and maunga which are important to the people of Tūrangi.
We have been through a very robust process around the design of the playground, and have engaged with the local community on what you'd like to see, so it is exciting to see this new papa tākaro start to come to life.
Location:
Te Kapua Park
Tūrangi
Project status:
In progress
Project budget:
$1.12 million
Start date:
May 2023
Completion date:
Spring 2023
Te papa tākaro hou ki Te Kapua Park nears completion
30 AUGUST 2023
It was all hands on deck at Te Kapua Park recently, when playground specialists from local kura came by to check out the new papa tākaro (playground) and lend a hand with landscaping work.
Tamariki from Te Kura o Hīrangi and Tongariro School helped Council's parks and reserves team to plant native grasses throughout the papa tākaro garden beds and Tūrangi Co-Governance Committee Co-Chair Te Takinga New said it was great to see the mokopuna of Pihanga taking ownership of their papa tākaro by getting involved.
Work underway on new papa tākaro
11 MAY 2023
The work site for the new papa tākaro (playground) at Te Kapua Park has been blessed and construction is expected to get under way in the coming weeks.
Contractors, locals, kaumatua and tamariki gathered for the blessing on Monday 1 May to ensure the safety of all those working on the project.
Concept designs for new Tūrangi playground complete
25 AUGUST 2022
Concept designs for the new Tūrangi papa tākaro (playground) at Te Kapua Park are complete and construction is expected to get underway in the new year, following the detailed designs being completed, contractors secured and play equipment manufactured.