Waiora House
Project overview
For 34 years Waiora House has been the heart of the Taupō district's social services and the place where people went for support and advice. Until 2019 it was housed in the former Taupō Maternity Hospital building, which had to be demolished following the discovery of asbestos.
Taupō District Council has been working with Waiora Community Trust to come up with a purpose-built, safe and welcoming building to act as a social service hub for years to come and which will allow agencies to connect and to collaborate as well as areas for the community to meet. While it is owned by Taupō District Council, it will be operated by the Waiora Community Trust.
Rebuilding Waiora House not only provides the opportunity to bring back a district social services hub but also to create a flagship community centre. The amount originally budgeted for the rebuild was $5.9 million but that has risen by another $1.8 million due to the soaring cost of construction materials and supply issues since the start of the Covid-19 pandemic.
Location:
Corner of Spa Rd and Kaimanawa and Motutaiko Streets

Project budget:
$7.7 million
Start date:
April 2021
Completion date:
August 2023
Contractor:
Shelter Architects (design)
RBS Group Limited (construction)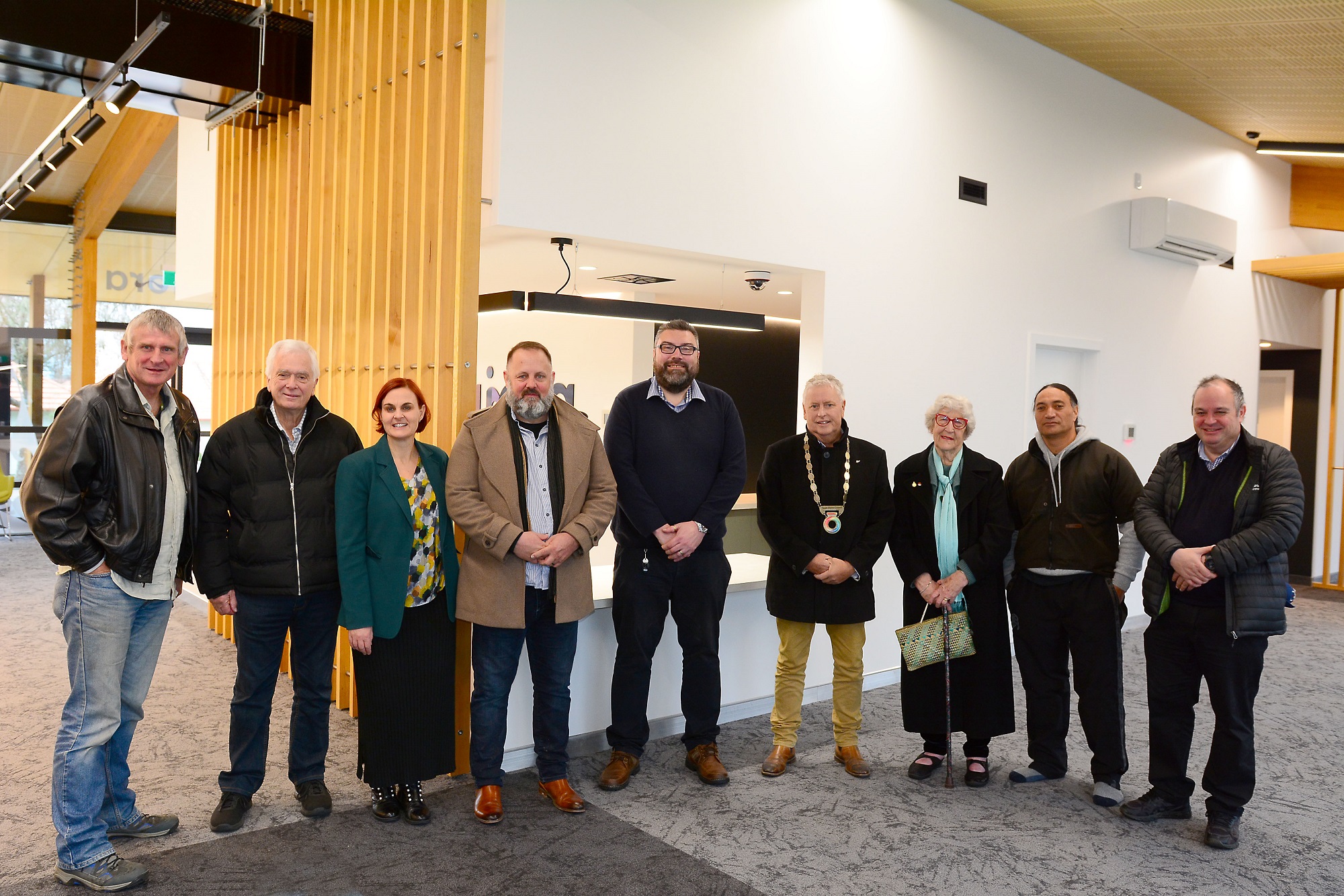 1 September 2023: Waiora House opened and blessed
'Nā tō rourou, nā taku rourou, ka ora ai te iwi. With your basket and my basket, the people will thrive'.
A place where people can collaborate, connect and work together for the betterment of the community – that's the vision behind the new Waiora House, which this morning opened its doors to the public for the first time.
15 June 2023: First baby born in original maternity hospital visits Waiora House
With the opening of the new Waiora House just around the corner, it was perfect timing to give Mrs Mata Knight (nee Hurae), the first baby born in the original maternity hospital, a sneak peek of the fantastic new building.
Mata says she loved seeing the new building and being back where it all began: "This is a really lovely building, warm and inviting. It's beautiful – and it's amazing to see the change in this place after all these years."
5 August 2022: Concrete progress with Waiora House rebuild
The Waiora House rebuild has hit a major milestone this week, with the building's foundation poured. Locally-owned and operated builders RBS Group Limited have been at work preparing the site since April and the foundation and concrete slab pour went ahead on Monday and Tuesday this week. The next stage will be the paving, civil works and outside services.
Taupō District Council senior project manager Pete Bradshaw said he was pleased to see the concreting go ahead in good conditions this week after the recent wet weather.
"This is a significant milestone in the construction programme, which is still on track for practical completion around April next year," he said.
13 April 2022: Waiora House rebuild underway
Following a site blessing, the rebuild of Waiora House, the Taupō district's much-loved social services hub, has started with earthworks underway.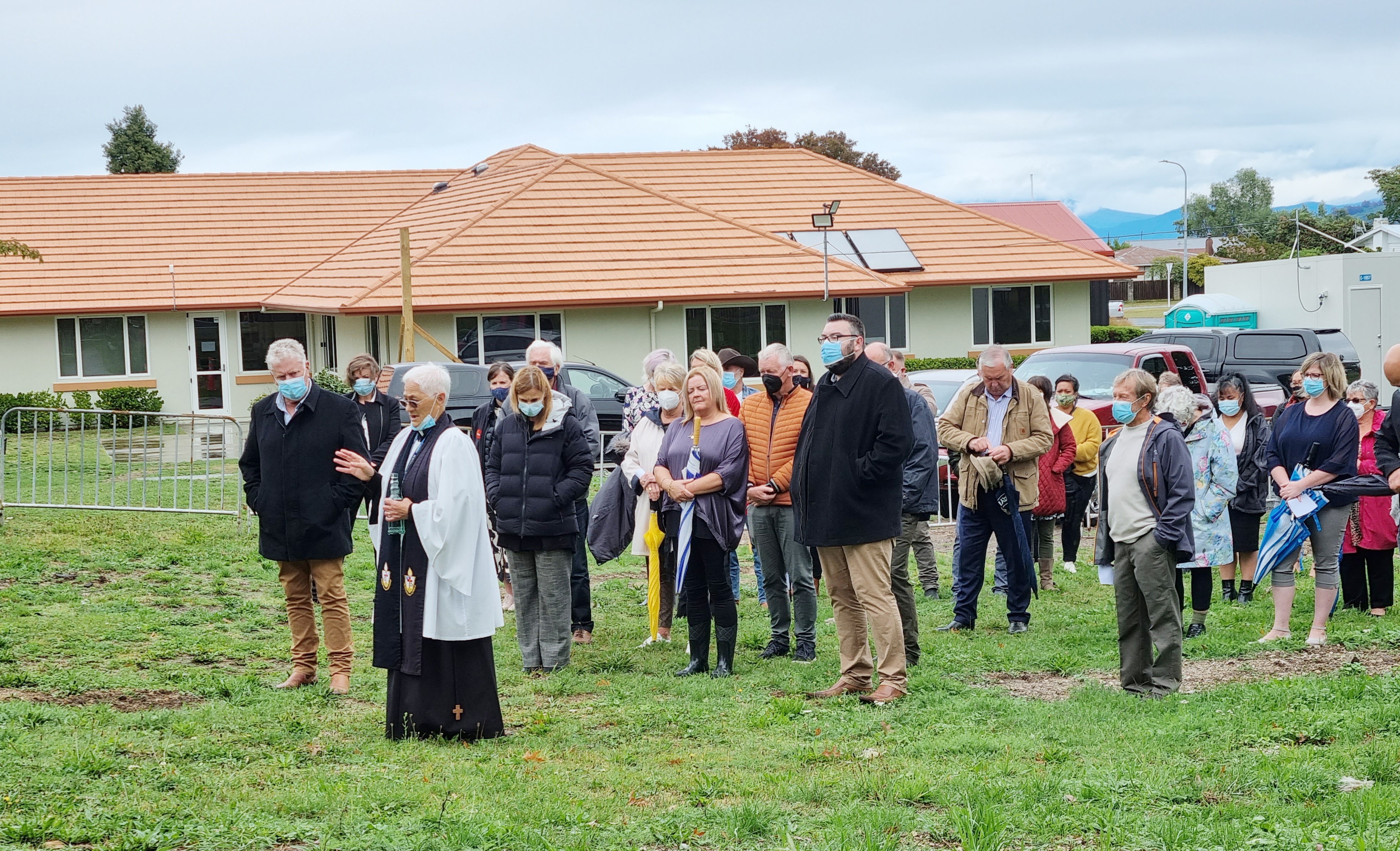 31 March: Site blessing allows Waiora House rebuild to start
It seemed a good omen when the storm lashing Taupō paused temporarily last Thursday to allow the Waiora House site blessing to go ahead.
Members of the Waiora Community Trust, Waiora House tenants, community representatives, elected members, council staff and the project's architects and builders gathered on the corner of Kaimanawa Street, Spa Road and Motutaiko Street as Reverend Peace blessed the site of the new building.
11 March: Taupō district social services hub Waiora House to rise again
The Taupō district's much-loved social services hub, Waiora House, is set to make a reappearance on its iconic Spa Road site.
The new Waiora House, which will be owned by Taupō District Council but operated by Waiora Community Trust, will be a purpose-built, safe and welcoming building that will support the needs of the social sector for many years to come.