Mapara Road footpath
Project overview
Construction of a new footpath, kerb and channel on Mapara Road was completed in October 2020. The new 300-metre path starts opposite Krissell Place and goes up the hill to Acacia Heights Drive.
The project was delivered by local contractors, TR Construction.
Location:
Mapara Road
Acacia Bay, Taupō
Project status:
Complete
Start date:
June 2020
Completion date:
October 2020
Contractor:
TR Construction
Project updates
OCTOBER 16, 2020
Work on the new footpath along Mapara Road is complete and is already proving popular with locals.
Local contractors TR Construction had changeable weather to contend with throughout the project but infrastructure manager Denis Lewis says the completed works offer greater convenience and safety to pedestrians.
"As the area grows we are seeing an increase in pedestrians using Mapara Road, and it is particularly popular with walkers, so it's great to see this new footpath in place," he said.
"As well as making the route easier for walkers and people with prams and the like, it also improves safety along what is becoming a quite busy piece of road."
SEPTEMBER 11, 2020
With just 50m of new concrete footpath and kerbing remaining to be poured, the Mapara Road footpath is just weeks away from completion.
A further 100m of pathway was poured last week and infrastructure manager Denis Lewis said the final stretch of 50m would be poured as soon as the weather cooperated.
"Once the final pour is complete it will be just a matter of reinstating some of the roadway and tidying up drainage and the like, so we are on track to have everything finished by the end of September," he said.
"We've had very positive feedback from the community about this project. The road is popular with walkers, but it does see quite a lot of traffic, so the new footpath makes it much safer as well as more convenient."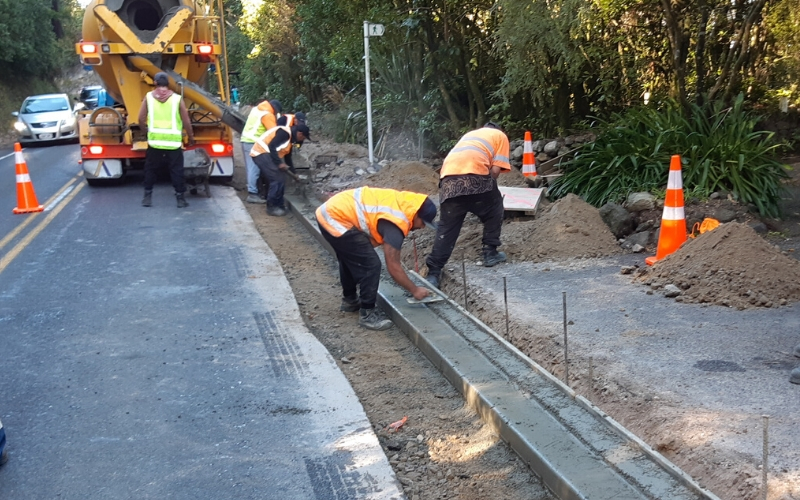 AUGUST 7, 2020
The first section of the new Mapara Road footpath is nearing completion, with chip seal added and street light ducting installed. The local contractor TR Construction have already commenced work on the next section progressing downhill, with new kerbing to be constructed next week and new footpath expected to be complete by the end of August 2020.
JUNE 11, 2020
Construction of a footpath and kerb and channeling on Mapara Road started this week, with the first section of concrete kerb already poured opposite Acacia Heights Road.