Kerbside refuse and recycling collection
Kerbside collections on Labour Day
Kerbside rubbish and recycling collections around the Taupō District will go ahead as usual on Labour Day, Monday 25 October 2021. If Monday is your usual pickup day, please make sure everything is kerbside by the usual time of 7.30am.
Find your collection day

Weekly rubbish and recycling kerbside collection services are provided for households and businesses in urban areas across the Taupō District.
Outside of Christmas Day and Good Friday, kerbside collections typically run as normal on public holidays. Any changes will be shown here and advertised on our Facebook page, Antenno and in Connect.
To see what day kerbside collections run in your area go to our collection day map and enter your address into the search field.
Kerbside collections at alert level 2
Service / Facility

Status and details

Kerbside rubbish collection

Service running as usual at Alert Level 2.
Normal collection days apply - use prepaid yellow bags or bags with council sticker only.

Kerbside recycling collection

Service running as usual at Alert Level 2.
Normal collection days apply.
Key things to remember on your collection day
Place your rubbish bags and recycling bins kerbside by 7.30am on your collection day
A orange sticker must be adhered to every rubbish bag (60 litres maximum), unless it is a yellow Budget Waste prepaid bag
There is no limit to the number of rubbish bags you can put out for collection, as long as the bags used are not bigger than 60 litres and each bag has an orange sticker applied
Leave bags and bins as close as you can to the kerbside and clear of the footpath
Wrap any broken glass or sharp objects thoroughly before putting them in your refuse bag
On windy days, put bigger and heavier items (e.g. glass bottles and jars) on top of lighter items inside your green bin to stop things blowing away. You can also place your rubbish bag on top of your green bin to weigh down the recycled items.
Don't overfill your green bin - recycled items should not be stacked above the top of the bin, especially on windy days!
Two smaller plastic bags or bag liners (30 litres maximum combined) tied together will be accepted with half an orange sticker
If refuse bags or recyclable items are placed out for removal and do not, for any reason, comply with what is allowed, the contractor shall apply a sticker stating why they do not comply.
Rubbish bags and orange stickers
You can put any rubbish bag out for kerbside collection as long as it's no more than 60 litres. One pre-paid orange sticker must be applied to each bag (unless it is a yellow Budget Waste prepaid bag). You can purchase stickers from council offices and other outlets in the Taupō District. Stickers are $1.50 each.
Where to buy rubbish bag stickers (PDF, 41KB)
What you can put in your rubbish bags
Everyday rubbish and waste can go into your rubbish bags for kerbside collection, including polystyrene containers, wet wipes, nappies and sanitary products, sweepings, dust, bones, cold ashes, cartons, packaging, plastics with recycling symbols 3, 4, 6 and 7 and other non-recyclable items.
What you can't put in your rubbish bags
Hot ashes, garden waste, hedge clippings and hazardous waste
Recyclables such as glass bottles and jars, paper and cardboard, cans and plastics with recycling symbols 1, 2 or 5. These items should be placed in your green recycle bin - see below for more information.
Kerbside recycling

Help us look after the place we love by recycling! We actively support reducing the amount of rubbish that is sent to landfill by providing a kerbside recycling collection that takes place on the same day of the week as your rubbish collection.
Recycling guidelines printable (PDF, 3.8KB)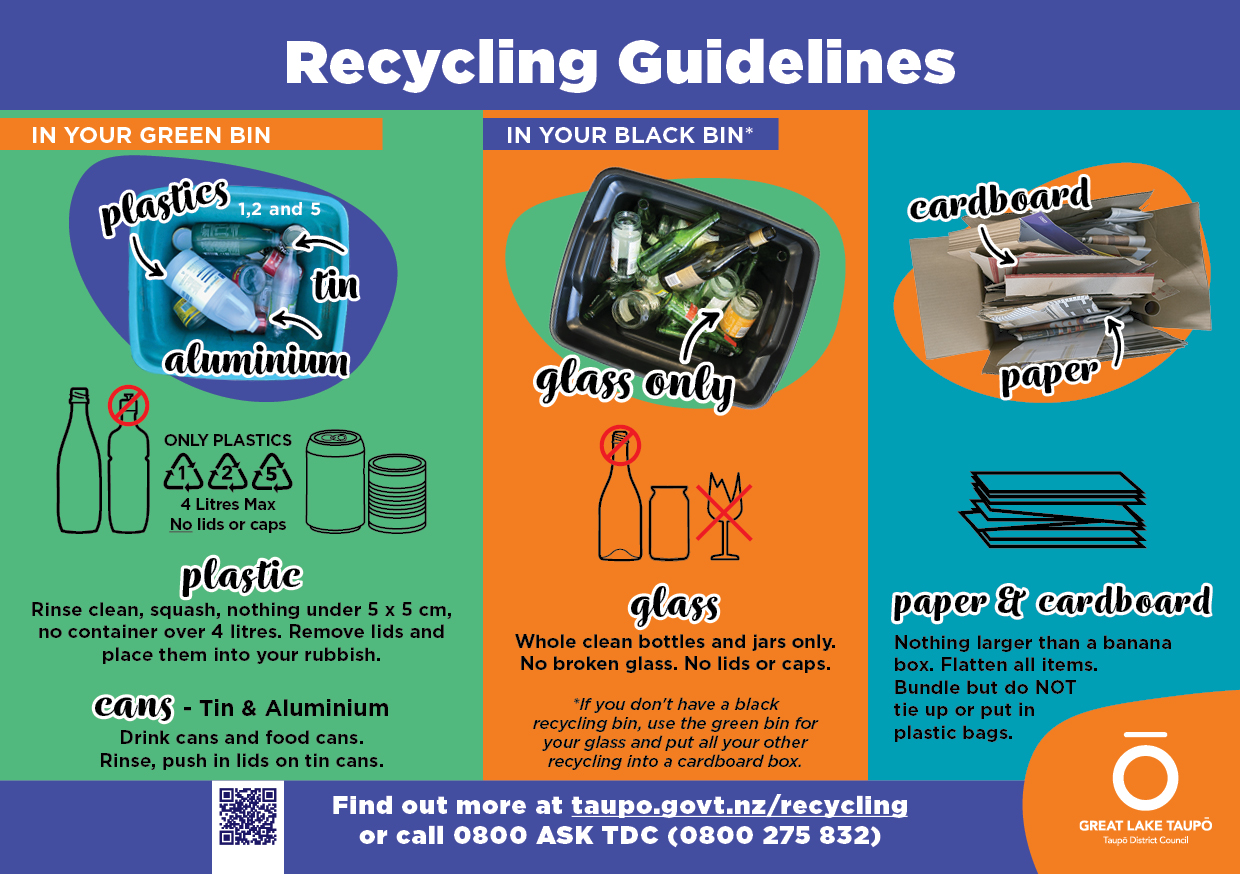 Green recycling bins
Green bins for recycling are available from council offices. Each household is entitled to one green recycling bin. There is no charge to replace a lost or stolen green bin. Additional green bins and green bins for businesses can be purchased for $10 each.
Please label your bin with your street address. If you move, please leave your green bin at your old address. There should be a bin at your new address.
Our recyclers sort items at the kerbside to help educate everybody on what can and cannot be recycled in the Taupō District. If items are left in your recycling bin this means they cannot be recycled or they are contaminated with food.
What you can recycle in your green bin
Plastics with a category 1, 2 or 5 inside the recycle arrows - look for the recycle symbol on the bottom or side of plastic containers. Note that only kitchen, laundry and bathroom number 5 plastics can be recycled, not outdoor number 5 plastics such as plant pots.
Remove any coloured shrink wrap from plastic 1 and 2 containers.
Newspaper, cardboard, pizza boxes, magazines, junk mail, envelopes and any other clean paper or cardboard
Clean tin cans such as food and pet food cans
Aluminium drink cans
Whole glass jars and bottles (no sharp edges please).
Rinse out your recyclables and put caps and lids into your rubbish bag. An empty cardboard box can be used to hold extra recyclables. For the safety of your collector, please put glass recycling in the green bin only, as cardboard boxes can collapse.
What you can't recycle in your green bin
Plastics with categories 3, 4, 6 or 7 inside the recycling arrows - look for the recycle symbol on the bottom or side of plastic containers.
While number 5 plastics can be recycled, note that does not include outdoor number 5 plastics such as plant pots which cannot be recycled.
Mixed paper (or cardboard) products such as waxed paper, carbon paper, milk or juice cartons. These are paper mixed with plastics, wax or foil and are not recyclable.
Plastic bags, polystyrene packaging or meat trays are not recyclable.
Paint tins are not recyclable in your green bin. However, well washed paint tins can be recycled at Broadlands Road Landfill and some of the district transfer stations.
Aerosols are not recyclable.
Broken glass and windows cannot be put in your green bin (please wrap in newspaper and put into your rubbish).
Crystal and ceramics are not recyclable.
Be careful with your rubbish and recycling
Ever wondered if something is safe to recycle or put in the rubbish? If you're asking the question - you've probably got your answer! If you have to be careful with something you're disposing of, the contractors picking it up could probably be injured by it.
Anything dangerous, sharp or pointy should be wrapped in newspaper or preferably cardboard before being put out for collection. This includes:
Broken glass
Needles
Skewers
Broken plates
Gardening equipment
Kitchen knives
Please wrap it before you throw it away, and keep our contractors - and yourselves - safe!