Parking information
Mobility parking
Mobility parking spaces are available throughout the Taupo District. The only people who may use mobility parks are those who display current permits. Infringement notices will be issued to anyone using a mobility park without a clearly displayed permit so always remember to have your permit clearly on show.
If you are a mobility card holder and you find all the mobility parking spaces are full, you can use the normal parking spaces. Parking Officers will double the length of time that you are permitted to stay there - e.g. if the parking space is for one hour you will be allowed to park there for two hours.
Find mobility parking spaces on our parking map
Or see the list of streets with mobility parking spaces below:
| Street | Parking spaces |
| --- | --- |
| Ruapehu Street | 3 |
| Tuwharetoa Street | 2 |
| Heuheu Street (up to the intersection with Titiraupenga St) | 5 |
| Horomatangi Street | 3 |
| Tamamutu Street | 3 |
| Taniwha Street | 1 |
| Paora Hapi Street (or within Spa Gate shopping car park) | 2 |
| Tuwharetoa St car park | 1 |
Mobility parking spaces in Turangi central streets
| Street | Parking Spaces |
| --- | --- |
| Adjacent to Town Centre Car Park | 1 |
| Adjacent to Turangi Bakery North Car Park | 1 |
| Adjacent to Town Centre Surgery, Tautahanga Road | 1 |
| Adjacent to National Bank, Ohuanga Road | 1 |
Parked vehicle complaints
How do I report a vehicle on the road which I think may have been abandoned?
If there is a vehicle on the road that you suspect has been abandoned, you can notify us by calling 07 376 0899 during office hours.
A compliance officer will be assigned to investigate.
What can I do if I think a vehicle is parked illegally?
If there is a vehicle that you believe is parked illegally (for example: parked facing the wrong way on the street, parked over or within one meter of a driveway, parked on yellow lines, illegally parked in a mobility space) you can notify us by calling 07 376 0899 during office hours.
A compliance officer will go to the vehicle to site and ticket any infringements.
Who do I contact to report a burned out vehicle?
To report a burnt out vehicle you can contact us by calling 07 376 0899 during office hours. There is a statutory process that must be followed before the vehicle can be declared abandoned and removed. If the vehicle is causing a danger please be sure to give details of this.
Vehicles abandoned on State Highways are the responsibility of the NZ Transport Agency and they are to be contacted in the first instance.
NZ Transport Agency contact information
Campervans, mobile homes and trailers
If you wish to park in the town centre in a campervan, mobile home or with a trailer, please ensure that your vehicle can fit between the marked white lines and does not obstruct traffic flow. This could cause accidents or damage to vehicles. If possible use the parallel parking bays or the off-street car parks as they can accommodate larger vehicles easily.
Find out more information on Freedom Camping in the Taupo District.
Parking around schools
There are numerous schools in the Taupo District, including Taupo Primary which is in the central business district.
Please be aware of children during school times and park carefully in these areas as we want to keep them safe at all times. Be respectful of other parents and caregivers by parking and driving safely. It is better to park further away from the school and walk than risk injuring a child.
Please give school buses plenty of room to drive in and out of the school area and do not park in the yellow drop-off zones.
Heavy vehicle parking
Parking heavy vehicles for more than one hour in residential areas in Taupo is prohibited. There is ample parking outside out of residential areas in the following locations:
Kaimanawa Reserve: Rifle Range road side (6pm to 7am), Kaimanawa Street Side (24 hours)
Roberts Street car park between Burger King and Liquor King (6pm to 7am) and across from Liquor King (6pm to 7am).
Stag Park, 151 Napier Taupo Highway,State Highway 5 (24 hours)
BP Wairakei, State Highway 1, Wairakei (24 hours)
Ashwood Park industrial area, Tauhara (6pm to 7am)
Industrial area between Broadlands and Crown Roads (6pm to 7am)
Lake Terrace parking restrictions
Vehicles can not park on Lake Terrace between Rifle Range Road and Pataka Road, as well as opposite Titiraupenga Street, for more than three hours between 6pm and 8am.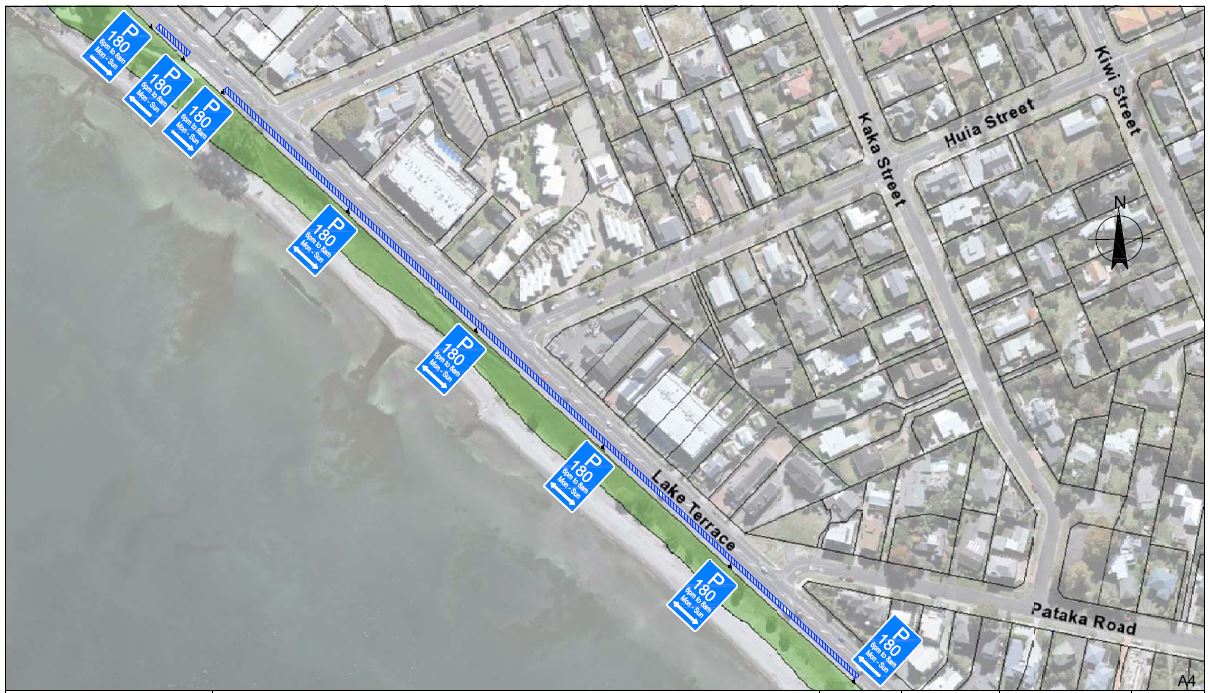 Parking on berms
Please be mindful of your neighbours and the community by refraining from parking on berms. Parking on berms can cause the grass to die off which in dry weather creates a lot of dust. Please keep our district beautiful and green by parking appropriately.