Three Waters Reform
Background
In July 2020, the Government launched the Three Waters Reform programme – a three-year programme to reform local government three waters (wastewater, drinking water and stormwater) service delivery arrangements.
Currently Taupō District Council, along with 66 other councils, own and operate the majority of these assets across New Zealand.
Under these reforms, the Government would like to amalgamate these services and create a small number of multi-regional entities with a bottom line of public ownership. The exact size, shape and design of these entities is still being worked through.
The Department of Internal Affairs (DIA) has released a map (below) showing the proposed boundaries of the four entities. We would be included in entity B and our Council is in the process of giving the Government feedback on the map and hasn't firmed up a position on the overall proposal and boundaries yet.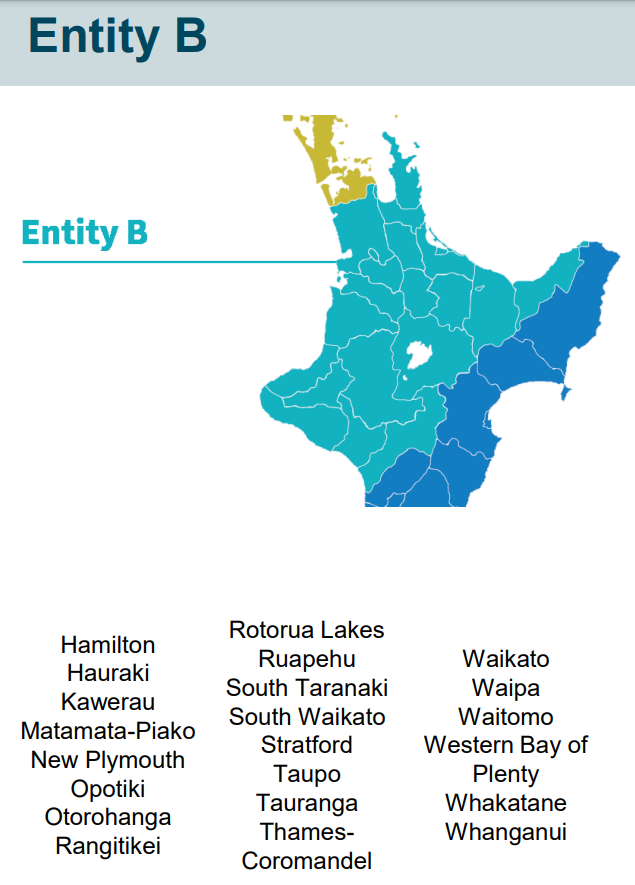 What does this mean for the Taupō District?
Councillors agreed Taupō District Council will participate in the initial stage of the programme. This gives us a seat at the table, together with Government and regional partners, to explore the local impacts of the Three Waters Reform programme.
For our participation, we've been granted $8.3 million in government funding to strengthen water, wastewater and stormwater infrastructure and services across the district. This needs to be spent by March 2022. It does not mean we must participate in these reforms.
On top of this, the Government announced in July 2021 a further $19.7 million funding package for our district if we were to opt-in to these reforms. This is to ensure that councils are supported through the transition process, the financial impacts of reform are managed and importantly, all councils and communities will transition to amalgamation and be "no worse off" than they are now.
From council's perspective, the Three Waters Reform programme has the potential to significantly change the way critical water infrastructure and services are delivered in our district.
Across our district, we have continued to invest heavily in our wastewater infrastructure on behalf of, and for the benefit of, our community and the environment. Our water-related assets have a value of nearly $550 million.
A further $211 million is allocated in our Long-term Plan to support drinking water safety upgrades, improving our wastewater treatment infrastructure and addressing stormwater improvements in our district. This is over 50% of our total capital expenditure over the next ten years.
Amalgamation could remove our responsibility for maintaining critical waters infrastructure and services. For example, Council would no longer be responsible for delivering drinking water supplies to households. It may also mean changes to how much our ratepayers pay for water and wastewater services, and who they pay for these services, in the future.
However, we're waiting further information from DIA. This will assist our staff in understanding the implications of the announcement for our district and communities.
The Government, through DIA, has set up a brief snapshot of what it could look like with and without reforms in 2051, and how we are currently tracking. You can see this below or by heading here.
What are the next steps?
The Government has given every council until late September to take a close look at the reform proposals and assess their impact on them and their community.
After this, the Government will consider next steps, including the process and revised timing for decision-making. No decisions on this have been made, or will be made, until after this engagement period.
There is a commitment from all parties for the need to spend more time working through some issues that are important to all of us. These are:
Ensuring all communities have both a voice in the system and influence over local decisions. This means being sure the water entities understand and act on communities' needs and wants, including responding to localised concerns like a desire for chlorine-free water.
Effective representation on the new water entities' oversight boards so that there is strong accountability to the communities they serve. This includes effective assurance that entities, which will remain in public ownership, cannot be privatised in future.
Making sure councils' plans for growth are appropriately integrated with water services planning
Has council reached a position on whether they support these reforms?
We do not currently have a position on this – but have a number of outstanding questions we are looking to answer. These are outlined in a statement from our Mayor but essentially the key questions we are asking are:
How will the Governance of the new entities be set up to ensure that Taupō District retains its voice over its assets, and that local priorities and development patterns are provided for across the large areas?
Will our ratepayers really be better off financially as a result of this proposal?
What will the impact of the change be on the Council organisation that remains after the change, and what will local government look like in the future?
Is bigger actually better, and are the efficiency assumptions made by Government realistic?
How can the three waters assets be separated from our other assets (for example the gullies we all use for recreation are often also our stormwater reserves)?
We strongly believe that the Government should enable councils to consult with their communities on this.
We are also working closely with our iwi partners – including holding a hui in the coming weeks to ensure we are aligned in our understanding of these reforms and how they will affect our communities.
Entity B meeting in August
A meeting about the Three Waters Reform programme was held on August 5 with Mayors and chief executives from the Entity B area. The collective viewpoint from the meeting included the following:
Questions on the effectiveness of representation and governance still need to be answered
Lack of community voice throughout the process
Planning interface/process with water services entities unclear
Lines of accountability not known
Another key message from the meeting was that there are two other major reforms impacting on local government at the same time – the RMA reform and the local government reform – and further work is needed on these reforms also.