New speed limits: Getting to school just got safer
In an effort to ensure children are safe to walk, bike, or scooter to school, Taupō District Council is introducing lower speed limits of 30km/h around many of the district's schools.
The council adopted the Speed Management Plan in September last year, which highlighted a set of priority one speed limit changes to be rolled out first. These are now being implemented.
Road safety has been a big focus for Council, to protect children and to provide other benefits. Safer speed limits also create healthier environments though improved air quality and lower carbon emissions, and contribute to thriving town centres and safer streets for alternative transport like walking or biking.
Taupō District Council road safety coordinator Sarah Wraight emphasises how important it is to slow down and be cautious around schools.
"Setting those lower speed limits around the schools really improves children's safety," she said.
"We teach our kids a lot about road safety, how to look both ways before crossing and wear a helmet on a bike, but the other part to the equation is drivers. We want parents to feel safe letting their kids walk, bike or scooter to school."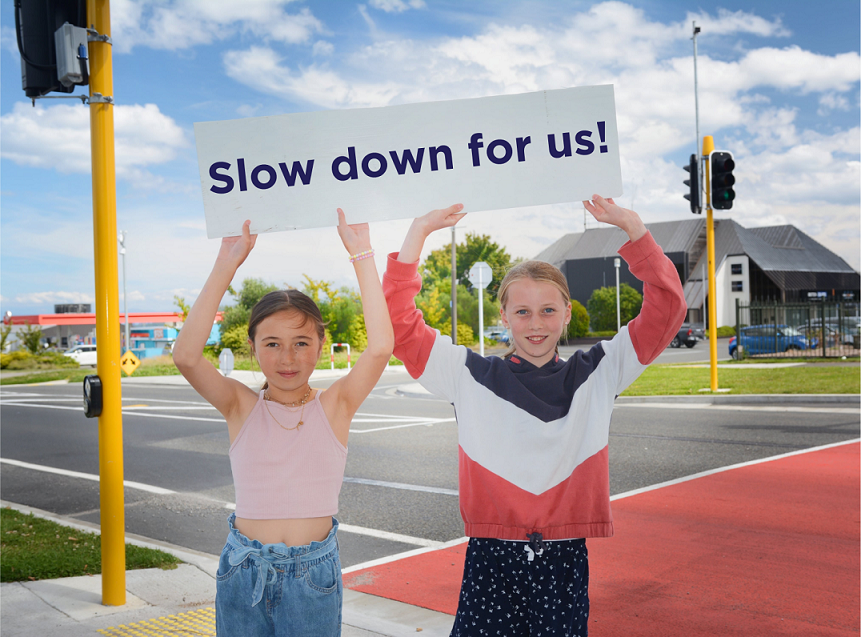 Schools benefiting from the changes are:
Tauhara Primary School
Tauhara College
Taupō-nui-a-Tia College
Taupō Primary School
Lake Taupō Christian School
St Patrick's Catholic School Taupō
Mountview School
Te Kura Kaupapa Māori o Whakarewa |Te Reo Ki Tūwharetoa
Taupō Intermediate School
Hilltop School
Waipāhīhī School
Tongariro School
Te Kura O Hirangi
Wairākei Primary School
Mangakino School
Tauhara Primary School principal Tracy Fraser is pleased that the council is regulating speeds to keep tamariki safe.
"Anything that manages speed is good, people do go quite fast around here and don't always stop," she says.
"We're on Crown Road which is close to the industrial area and it's so busy with trucks and cars, especially before and after school.
"Kids don't always realise where the cars will be coming from or how fast they are and we've had a couple of close calls."
Council is still awaiting a shipment of electronic signs for Tirohanga School and Whakamaru School, which will be installed upon arrival.
The rest of the changes in the district will be implemented by the end of May. Visit our website for the full list: www.taupo.govt.nz/speedmanagement