What's on at Taupō Museum
Stay up-to-date with what's on at Taupō Museum
Subscribe to get our email newsletters and stay up-to-date with upcoming exhibitions and what's happening at Taupō Museum.
Subscribe now
ONE Hundred 2023 – Canvassing the Central Plateau
Opens 16 December
If you have ever dreamed of seeing your artwork displayed in an exhibition and you are inspired by the Taupō District and Central Plateau, Taupō Museum has the opportunity for you.
The museum is calling artists, creatives, and crafters, aged 12 and upwards, to be part of a vibrant canvas exhibition this summer, showcasing our beautiful backyard.
Taupō Museum exhibitions curator Kerence Stephen says as part of the ONE Hundred 2023 – Canvassing the Central Plateau exhibition, artists are encouraged to buy a 30cm x 30cm blank canvas from Taupō Museum and get the creative juices flowing.
"Think all things Taupō District and Central Plateau, explore your love of the area, and produce a saleable souvenir evoking memories of a beautiful place to holiday or live," she says.
"Your art can be displayed on the front or back, on or in your canvas. Think paint, print, fibre, ceramic, weaving, assemblage, photography, graphics, embroidery, wood, recycled materials, anything goes!"
It has been 10 years since the last One Hundred exhibition, having previously been popular fundraisers for causes such as the Ora Garden, children's art materials, and workshops.
ONE Hundred 2023 – Canvassing the Central Plateau will be on show in the Main Gallery at Taupō Museum from 16 December. The blank canvasses are $15 and available at the museum now. Finished artwork should be submitted between Monday 20 November to Tuesday 5 December.
For more information, call Taupō Museum on 07 376 0414, email taupomuseum@taupo.govt.nz, or go to www.taupo.govt.nz/museum.
Jellicoe & Bledisloe: Hamilton in the 90s
26 August - 8 October 2023
When photographer David Cook moved into Hamilton East, he was drawn to the colourful, creative and chaotic lives of his neighbours. With camera in hand, he explored back-yard mechanics to Sunday roasts, inventing an intimate documentary of a State Housing suburb in the 90s, moments before gentrification set in.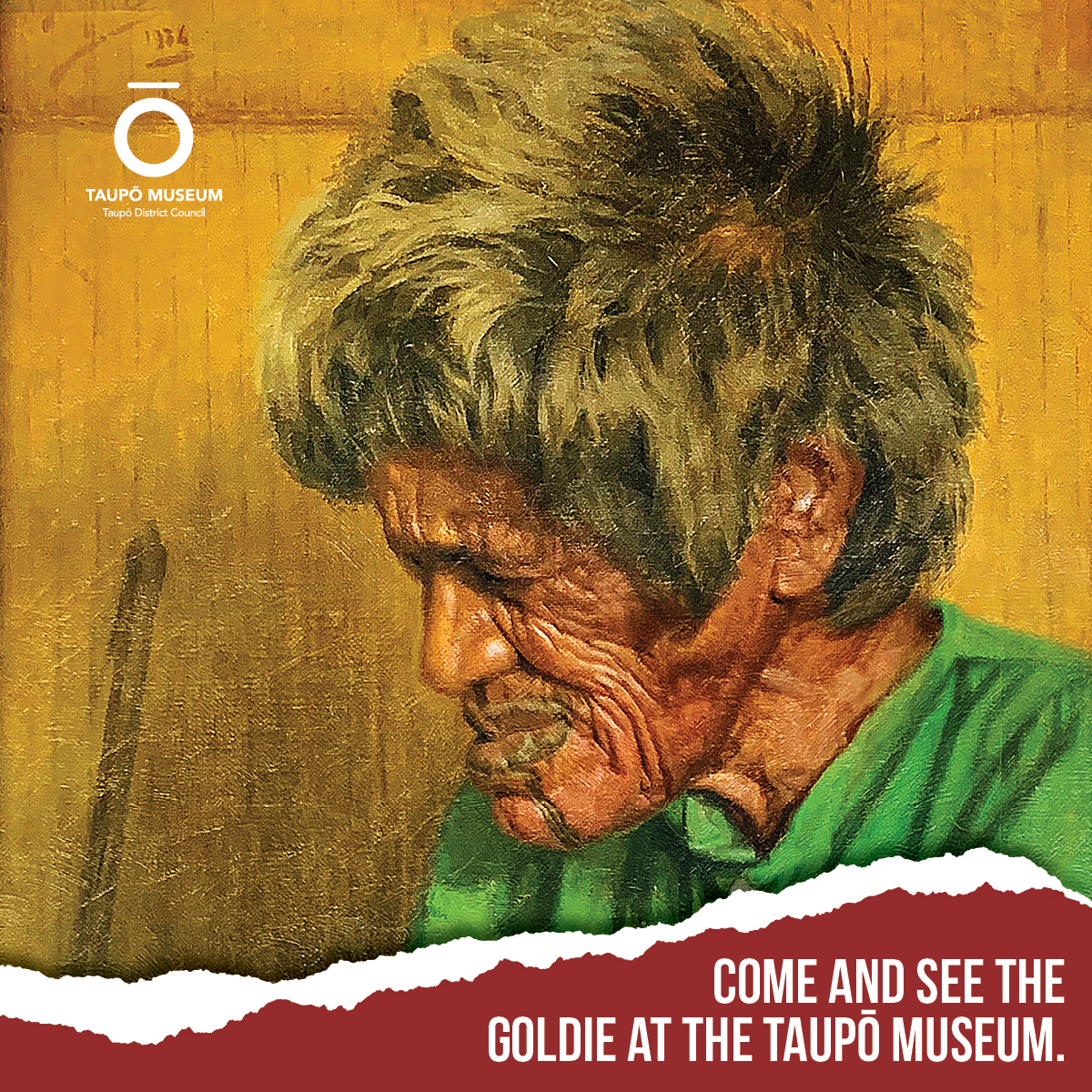 Locals and visitors alike have the chance to see an exhibit steeped in New Zealand art history at Taupō Museum.
The Blind Woman of Taupō by legendary New Zealand artist Charles Frederick Goldie is now on display in Te Aroha o Rongoheikume, the museum's wharenui (meeting house), thanks to a loan from an anonymous benefactor.
The incredible and absorbing painting, produced in 1934, has been loaned to the Taupō Museum for five years.
It sits next to portraits of Ngāti Tūwharetoa chiefs Te Werahiko (Haukino) and Rutene Te Uamairangi Rahui of Ōpepe, painted in 1908 by notable artist and Taupō identity Thomas Ryan, in an exhibit called Goldie and Ryan.
The new display was blessed and officially opened to the public on 11 August 2022.
Read the media release: Gone to Taupō: Golden addition to museum unveiled