What's on at Taupō Museum
Creepy Crawlies
2 December 2022 to 6 February 2023
Cats, dogs, birds, bicycles and aquatics, the Taupō Museum's annual reused, recycled exhibition themes always invite a wide range of creative interpretations.
This year's exhibition, with the theme Creepy Crawlies, has been highly ant-icipated and creative people have swarmed to the museum to collect entry forms.
There is a range of creepy crawly creatures bee-ing created, from all sorts of recycled materials including driftwood, vinyl records, fur balls, cutlery, and toys.
Local groups inspired to get involved with the Creepy Crawlies exhibition include Kids Greening Taupō, which is providing content for interactive activities in the Niven Room, and Mahi Aroha - Project Tongariro which will hold reuse, recycle creepy crawly themed workshops during the January school holidays.
The Creepy Crawlies exhibition will be held in both the Main and Niven Room galleries at the Taupō Museum from 2 December to 6 February.
The official opening at 5.30pm on Friday 2 December is supported by The Friends of the Taupō Museum and Art Gallery and local craft meadery Beehave will be holding a special tasting for attendees.
Read the media release: Reused and recycled Creepy Crawlies find new home at Taupō Museum
Fibres Unlimited – 'Inspired by Taupō Museum'
18 February – 27 March 2023
Since its inception in 1996, local group Fibres Unlimited has exhibited bi-annually at the Taupō Museum galleries.
The group was set up by the late Joan Bright, to encourage fibre artists to work in a creative and original way, within a supportive environment. In 1996, this was radical!
Currently seven, mostly Taupō local, members meet regularly to evaluate, exhibit and share in order to develop both design and specific skills working with flax, paper and textiles.
The pandemic restrictions gave the Fibre Unlimited group valuable time to create works inspired by the treasures held in the Taupō Museum collection.
Taupo Embroiderers' Guild - Embroidery Showcase
Saturday 18 February 2023 – Sunday 26 March 2023
A display of work completed by members since their last exhibition in September 2019.
This includes pictures, wall hangings, quilts, table linen, cushions, Christmas decorations, and embroidery necessities such as pincushions, scissor fobs, hussifs and needle books; plus a special challenge section "Glorious Autumn".
Members will be stitching on some Saturdays including the opening day on Saturday 18 February and would welcome anyone interested in joining them.
Viewers can vote for their favourite piece, and take a ticket in one or both raffles (a quilt and Christmas hanging).
Taupo Embroiderers' Guild meets at the Vintage Car Club rooms in AC Baths Ave, Taupō, every Wednesday from 9.30am to noon, for stitch and chat, sharing information and expertise, some education sessions, and of course morning tea. Contact Ann on 027 652 8191 or Margaret on 027 622 6893.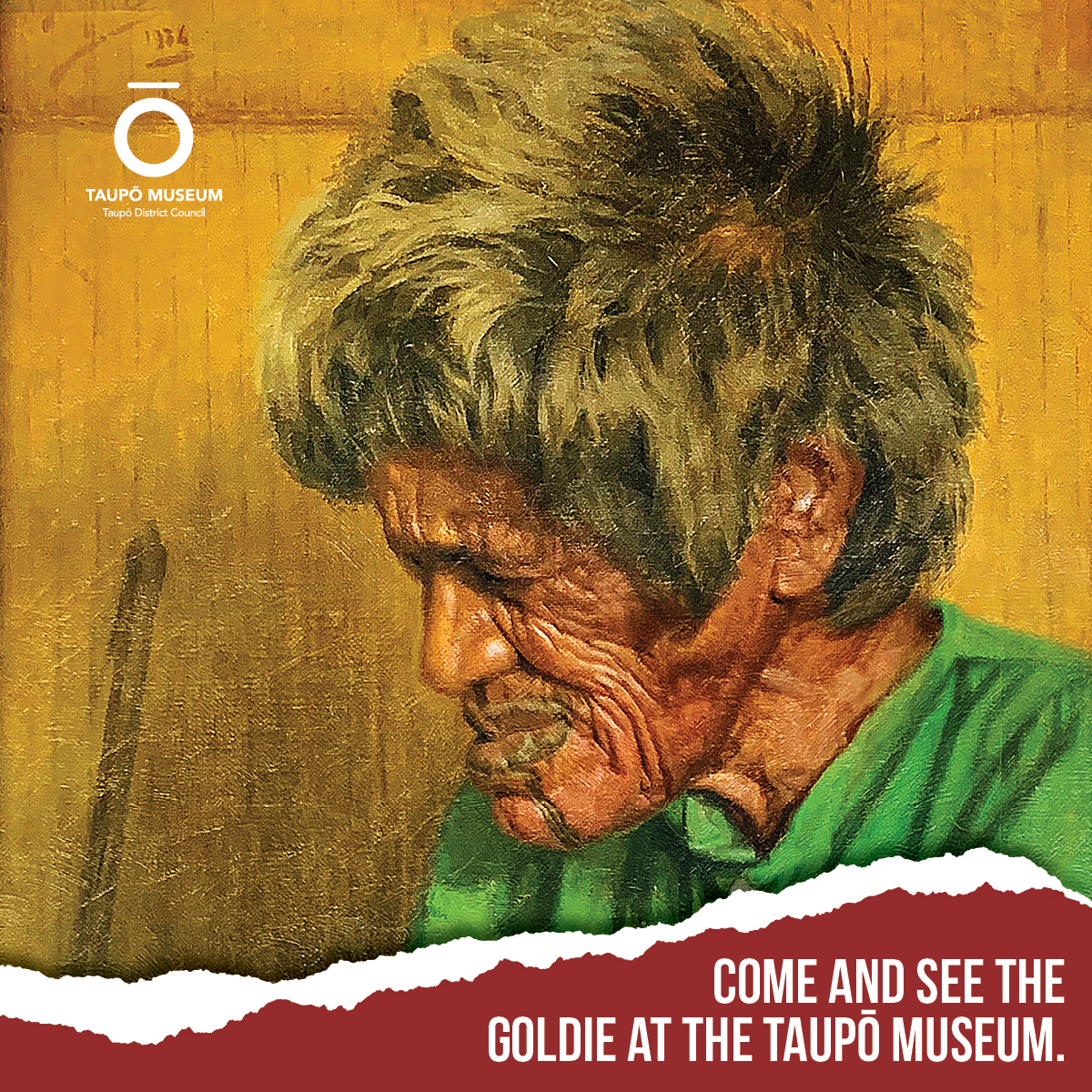 Locals and visitors alike have the chance to see an exhibit steeped in New Zealand art history at Taupō Museum.
The Blind Woman of Taupō by legendary New Zealand artist Charles Frederick Goldie is now on display in Te Aroha o Rongoheikume, the museum's wharenui (meeting house), thanks to a loan from an anonymous benefactor.
The incredible and absorbing painting, produced in 1934, has been loaned to the Taupō Museum for five years.
It sits next to portraits of Ngāti Tūwharetoa chiefs Te Werahiko (Haukino) and Rutene Te Uamairangi Rahui of Ōpepe, painted in 1908 by notable artist and Taupō identity Thomas Ryan, in an exhibit called Goldie and Ryan.
The new display was blessed and officially opened to the public on 11 August 2022.
Read the media release: Gone to Taupō: Golden addition to museum unveiled